As the only fire sign of the Zodiac that's also infused with summer's high-octane solar power, Leo (July 23 to August 22) is the sun's own sign. Leos are born to shine bright, to radiate warmth and a high-vibe persona, and their lion-hearted insides make them brave and fiercely loyal. Learn how to use essential oils for Leo season and get 5 fun Leo-themed essential oil blends to celebrate the sun.

Understanding Leo
As a fixed sign, Leos tend to be confident and firm about who they are and show up as such without too much fluctuation or susceptibility to the influence of others. But that is what also lends them a bit of resistance to changing their perspectives or adapting to circumstances.
Symbolized by the Nemean Lion of Greek myth, whose golden fur made it resistant to attack, Leos are gifted with a similar golden armor, the strength of their vibrant personas, which similarly helps to protect them. They are also associated with the 5th house of astrology, the area of our birth chart that governs entertainment, fun, dating, children/childhood, and romance—in other words, the sunniest slice of life.
Celebrating Leo Season
Leo season, at least in the Northern Hemisphere, brings with it the playful boon of late summer—hot sun, outdoor sports, leisure, vacations, social events, and a general air of camaraderie and good times. It's also the most yang, outward-facing time of the year when fire energy is at its peak, an essential point in the calendar when we are able to fill our batteries to make it through the long, quiet, cold, introspective yin energy of winter.
In addition to dressing up in your most attention-fetching get-ups, coiffing your hair into the glorious mane you've always longed for, or perfecting your top three go-to karaoke tunes to pull out on the fly, there are other ways to harness this big Leo energy, especially around the house.
Since this sign is associated with the solar plexus chakra (our "sun center"), working with its orange color vibration will help dial this energy up a notch or two. Mix in some orange accessories, such as pillows or throws, set out some sun-themed decor, or hang up orange semi-sheer curtains, so the whole room is awash with golden light.
While any wild scent would really align well with Leo's personality, bright, sunny, citrus scents are perfect. Sweet orange, grapefruit, or lime essential oils smell like summer, and that's Leo's vibe in a bottle.
Get out your diffuser and layer on some additional sensory stimulation with these fun Leo-themed essential oil blends. Combine the essential oils blends below with 200 mL of water.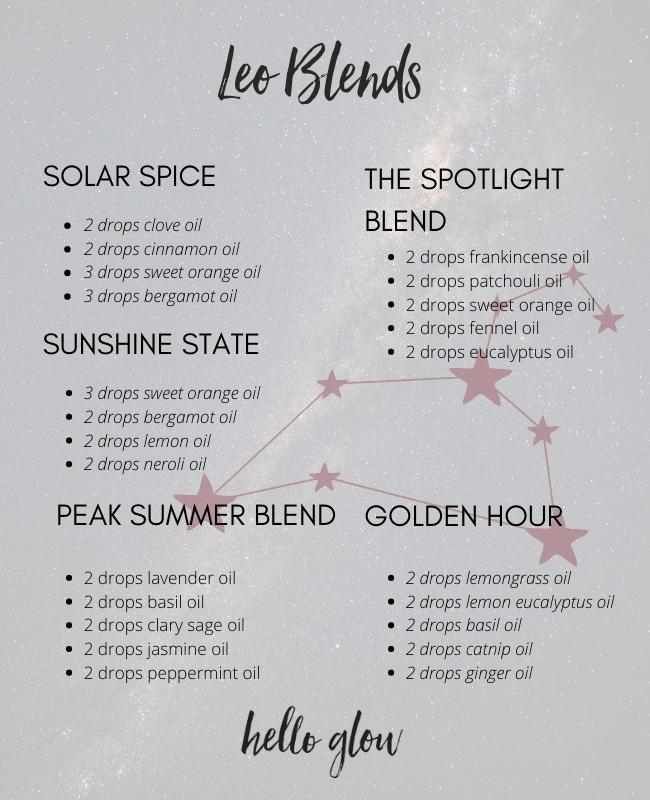 1. Solar Spice
This spicy, fire-sign blend is a balanced combination of warming notes and bright citrus and is a great all-around scent for the home or patio.
—2 drops clove oil
—2 drops cinnamon oil
—3 drops sweet orange oil
—3 drops bergamot oil
2. Sunshine State
This summery blend smells like a Florida citrus grove basking in the hot sun. It's uplifting and fresh and works well to eliminate odors in the kitchen or any other part of the house that could use a little kick.
—3 drops sweet orange oil
—2 drops bergamot oil
—2 drops lemon oil
—2 drops neroli oil
3. Peak Summer Blend
Nothing smells like summer quite like a bouquet of fresh herbs and florals that peak in late August—think purple seas of lavender, fragrant jasmine blooms, and the abundant overgrowth of sagebrush. This blend is so on-point that you won't even need a bountiful garden to bring all of that outside in.
—2 drops lavender oil
—2 drops basil oil
—2 drops clary sage oil
—2 drops jasmine oil
—2 drops peppermint oil
4. The Spotlight Blend
Leos are natural performers and limelight-seekers, so what's more perfect for Leo season than a blend that isn't one bit interested in fading into the background? Vibrant, smoky, and unique, this blend is for the brave hearts.
—2 drops frankincense oil
—2 drops patchouli oil
—2 drops sweet orange oil
—2 drops fennel oil
—2 drops eucalyptus oil
5. Golden Hour
Think summer twilight, buildings aglow with the low setting sun, crickets chirping, grasses rustling—if only we could bottle those! Until we find a way, this blend is a mood—fresh without being obvious—with grassy notes and a dash of golden heat.
—2 drops lemongrass oil
—2 drops lemon eucalyptus oil
—2 drops basil oil
—2 drops catnip oil
—2 drops ginger oil
Note: Not all essential oils are safe to use around pets. Read more about that here.
Want to learn more about essentials for zodiac signs? Find out the best oils to use for your sign!
2