Sagittarius (November 21 to December 21) is the brazenly adventurous sign of the zodiac, represented by the archer centaur or sometimes just the bow and arrow. Learn how to use essential oils for Sagittarius season and get 6 essential oil diffuser blends to evoke the adventurousness and free-spiritedness of Sagittarius.
Understanding Sagittarius
As a mutable fire sign, we see the quality of changeability added on top of the go-getter nature of fire, making the Sag a rather wild and unpredictable force. Ruled by Jupiter, the planet of eternal optimism and expansion, Sagittarius is indeed jovial, friendly, optimistic, and larger than life.
They tend to be globetrotting wanderlusters, aching to expand their minds with new experiences and knowledge. Their dynamic free-spiritedness makes them magnetic, and they are known to be bluntly honest, even when a bit of tact might be called for.
Celebrating Sagittarius Season
Sag is associated with the 9th astrological house or the area of our birth chart that includes higher learning, adventure, and travel. Even if you are not a Sagittarius, during its season in the sun can be a fortuitous time to seek a little more adventure, try new things, say yes to new experiences, take a leap of faith, and give something a go, even if we may feel a bit unprepared or underqualified.
It's a perfect time to learn something new, download a learn-a-new-language app, sign up for a course or workshop, or embark on a trip near or far. Philosophize, watch films from around the world that may open your mind and challenge your opinions or perspectives, and sample a new international cuisine or look up a recipe and try making it yourself (I also recommend making the appropriate customized soundtrack…Maria Callas is my usual Italian kitchen companion.)
Often characterized as students of life or die-hard wanderlusters, Sagittarius craves new experiences much like the other fire signs, and the scents they use should reflect that—in other words, the best oils for a Sag are exotic, hard to find, or previously unknown to them. Try yuzu for a clean citrus, agarwood (oudh) for something grounded, or copaiba for calming.
While they aren't exactly known for their nesting instincts, Sagittarius is skilled at making a home wherever they are, be it a beach hut in Bali or a five-star Airbnb in Ibiza. Since they aren't particularly concerned with creature comforts and instead find solace in the new and exciting, it only seems fitting that the Sag-inspired essential oil diffuser blends we've put together evoke a sense of far-flung elsewheres.
(Of course, you could be reading this from any corner of the world, and what I may consider "far flung" may be your home turf. So going with what's new to you is key!) Let's take our senses on an adventure, shall we?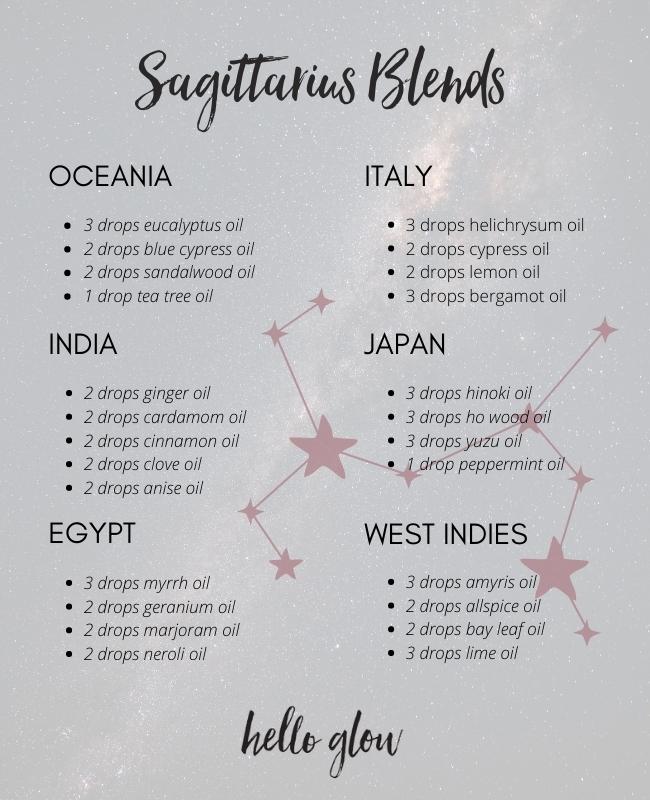 Essential Oil Blends for Sagittarius
Each of these diffuser blends is meant to be combined with 200 mL of water.
1. Oceania
This blend combines the scents native to the area around the South Pacific, Australia, and Tasmania. It's bright and a bit pungent but wonderful to use anywhere in the home. This one would work really well in the kitchen or bathroom, where its additional antiseptic punch may provide a welcome perk.
—3 drops eucalyptus oil
—2 drops blue cypress oil
—2 drops sandalwood oil
—1 drop tea tree oil
2. India
An unmistakable highlight of visiting India (which a Sagittarius may very well know!) is being able to take in all of those incredible aromas…delicious curries, wild jasmine, ripe mangos, sandalwood incense smoke, and hot Masala chai. This diffuser blend takes some of the most iconic scents of India and combines them into one spicy, chai-inspired blend.
—2 drops ginger oil
—2 drops cardamom oil
—2 drops cinnamon oil
—2 drops clove oil
—2 drops anise oil
3. Egypt
If you can't jet off to the pyramids, you can at least whip up a blend that evokes the spirit of Cairo. This essential oil combination incorporates some of the most well-known scents of Egypt, reminiscent of the ointments and perfumes that have been used there since the days of Cleopatra.
—3 drops myrrh oil
—2 drops geranium oil
—2 drops marjoram oil
—2 drops neroli oil
4. Italy
This blend gathers up some of that natural abundance found growing in the hills of Tuscany into something perfetto. All you need is a cold, sparkling spritz in hand, and you're as good as there!
—3 drops helichrysum oil
—2 drops cypress oil
—2 drops lemon oil
—3 drops bergamot oil
5. Japan
This beautiful blend of light woodsy notes mixed with sparkling yuzu and mint brings some classic scents of Japan into your home, wherever that may be. It's perfectly balanced, making it a sensible choice for any room.
—3 drops hinoki oil
—3 drops ho wood oil
—3 drops yuzu oil
—1 drop peppermint oil
6. West Indies
Warm and spicy with a twist of lime, this diffuser blend combines some of the most notable aromas of the Caribbean into something marvelous—what grows together goes together! And while it's not quite the same as being there, scents really can take us places. Here's to dreaming!
—3 drops amyris oil
—2 drops allspice oil
—2 drops bay leaf oil
—3 drops lime oil
*Note that not all essential oils are safe to use around pets. Please refer to our piece here to learn more.
Want to learn more about essentials for zodiac signs? Find out the best oils to use for your sign!
2