This month I turn 38. The reality of that sometimes scares me. I'm not afraid of aging; I just don't want to suddenly look old. Lately, it has motivated me to take my skincare regimen up a notch.
In the past, I totally ignored my skin, could barely be bothered to do more than dip my fingers in coconut oil and give my face a quick rub. No zits? All was well.
And I'll be honest, I still feel like I'm pretty lazy. But when you try a new product or add a skincare step and it feels amazing, it's a lot easier to keep it in the routine. InStyle recently had an article on 7-minute skin care that was pretty darn close to my actual regimen most nights. Maybe I'm not lazy! So I'm giving you my natural skin care regimen, with a few products that I use and like, along with plenty of DIY options, including suggestions for a natural cleansing balm you'll love.
My Natural Skincare Routine
My skin is far from perfect (I have fine lines and sunspots galore from a sun-loving youth) but here's what currently feels good for my skin - and hopefully makes it look good, too!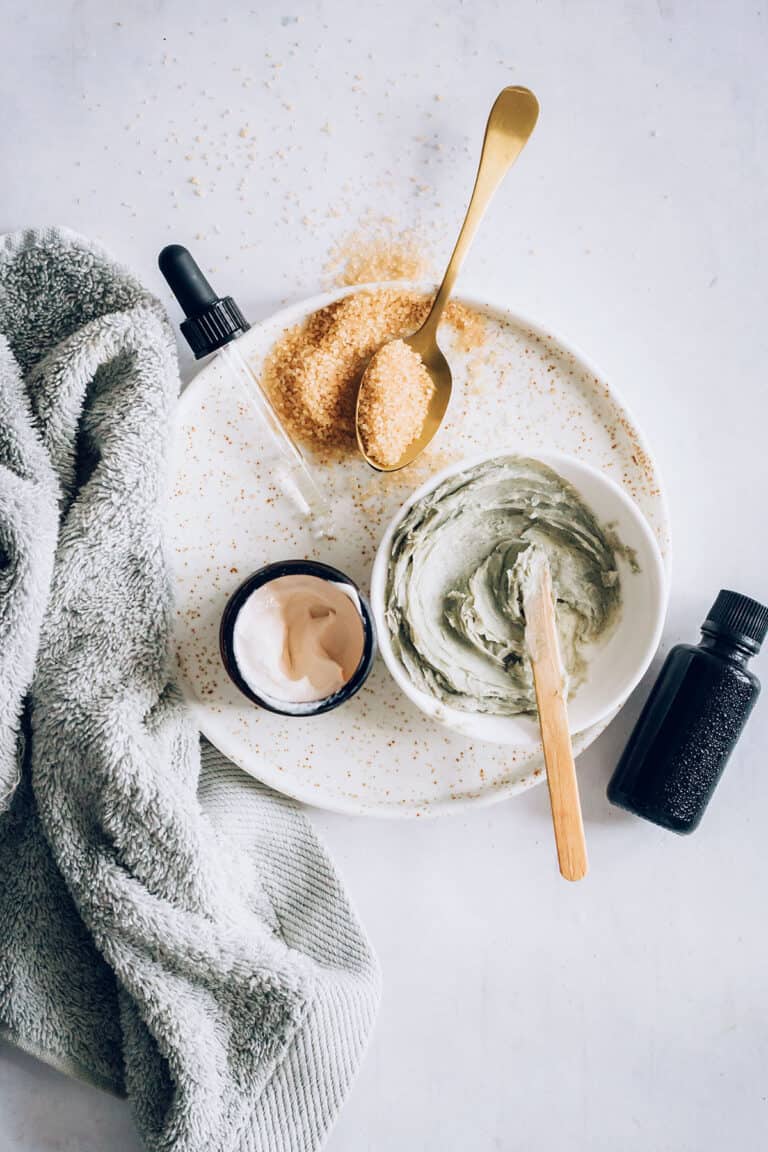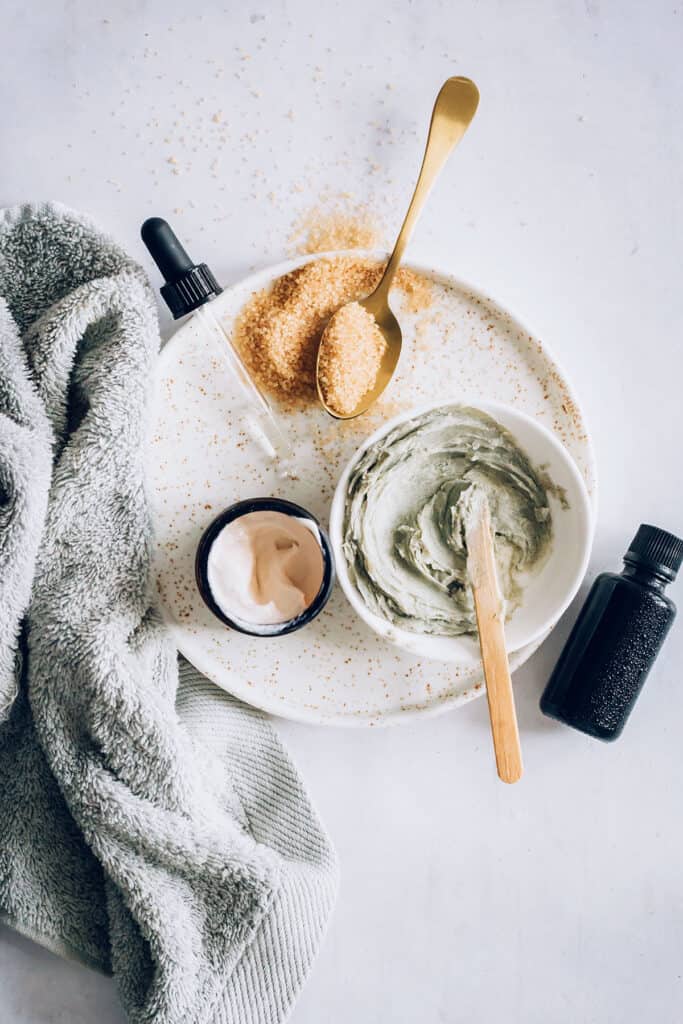 Step 1: Cleansing balm
The Beautycounter cleansing balm got me obsessed with oil cleansing. I've bought the cleansing balm for several friends because it's one of those products you want everyone to experience. If you haven't tried an oil cleansing balm, now's the time!
The oil breaks down makeup and pulls out gunk from your pores. You'll soon be addicted to how soft and smooth your skin feels. Balms are pricey so I'm now using my DIY'd cleaning balm.
Step 2: Cleanse again with foam
Those with skin less 'mature' than mine might want to opt for 2-step cleansing. After the cleansing balm, finish with a foam cleanser to remove excess oil and any leftover pollutants on your face. If my face still feels grimy or product-y I wash again with a simple honey cleanser.

Step 3: Add a toner
Skip the cotton pads, I like toners that can be applied with a spritz. Or, as they are often called, a 'floral essence.' You can easily DIY one of our 2-ingredient toners or face sprays.
Or I'm also a fan of a simple rose water spray. Use after cleansing to balance your skin's pH or apply during the day for a hydrating boost.
Step 4: Apply serum
Natural serums have a lightweight consistency that's quickly and easily absorbed into the skin. That means they can deliver a concentrated dose of anti-aging ingredients like hyaluronic acid or vitamin C (like this camu camu serum).
Give it a good 90 seconds to fully sink in before moving to step 5. When deciding the order of your skincare routine, always go from lightest weight to heaviest.
Step 5: Finish with moisturizer
For the day, I use a light consistency moisturizer with SPF included. At night, I finish with an oil. Since I have product ADD, I alternate between this DIY rosehip oil and this Beautycounter Face Oil.
This final layer creates a protective barrier for skin - keeping in all those good ingredients you just applied and keeping out UV rays and pollutants.
Step 6: Don't forget eye cream
The eye area gets a workout all day with smiling, squinting and blinking. Nourish the thin skin around your eyes with an eye cream that hydrates and protects against aging. DIY a balm with caffeine to minimize puffiness and bags or one with vitamins to fight fight lines.
I also like First Aid Beauty's Eye Duty Triple Remedy because it has a bit of sheen that highlights the under eye area and Burt's Bees Eye Cream because it has wrinkle-fighting bakuchiol.
Twice a week: Exfoliate
Keep a jar of cleansing grains by the sink and add a pinch to your foam cleanser a couple of times a week. Or try a gentle face scrub. You want to gently remove dead skin cells without overdoing it and irritating skin.
Once a week: Do a mask
An at-home facial is easy to do once a week. Add in a mask to target specific skin issues. Clay, honey or yogurt are universal ingredients that can work for almost anyone.
Clay masks are especially good for normal to oily skin while honey masks can add much needed moisture and yogurt masks nicely exfoliate.
What's your daily skincare routine?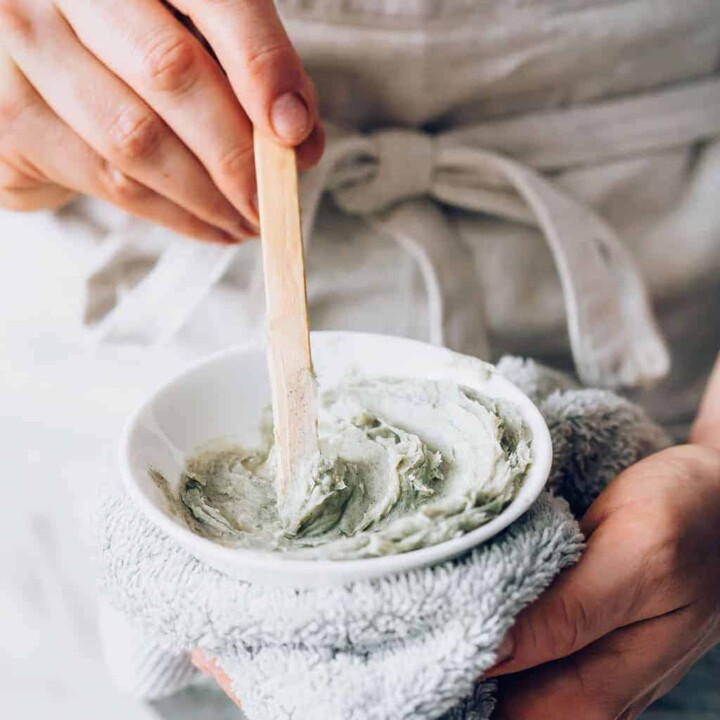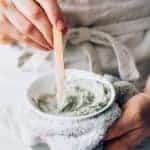 Print
DIY Clay Cleansing Balm
Unlike with soap, oil cleansers naturally break down makeup and flush gunk from pores without stripping skin of vital moisture. Use this cleansing balm to gently wash away grease, dirt and makeup.
Equipment
Small saucepan

4-ounce glass jar with lid
Instructions
Bring 2-inches of water to boil in a small saucepan. Reduce heat to low.

Measure out the beeswax and put in a heat-proof measuring cup or bowl. Place the dish in the saucepan and melt the beeswax.

Add the coconut oil and melt together.

Remove from heat and add the jojoba and stir.

Add the clay and baking soda and essential oil.

Transfer to a small container with a lid.
Notes
To use, scoop out a tiny bit of balm and massage it into your skin. I start with my skin dry, then put some water on my fingers and massage again. Then I use a cleansing cloth to gently remove the oil.
This post was medically reviewed by Dr. Jennifer Haley, a board-certified dermatologist with extensive experience in medical, cosmetic and surgical dermatology. Learn more about Hello Glow's medical review board here. As always, this is not personal medical advice and we recommend that you talk with your doctor.
Photos by Ana Stanciu
274