Citronella oil has long been used for many purposes, including as a natural insect deterrent [source]. In this version of citronella diffusers, beeswax is melted down with a carrier oil and combined with essential oils to create wax candle melts to use outdoors.
They are super easy to make and as an added bonus, the wax never evaporates! This means that they can be used over and over and over again, adding more essential oils as needed.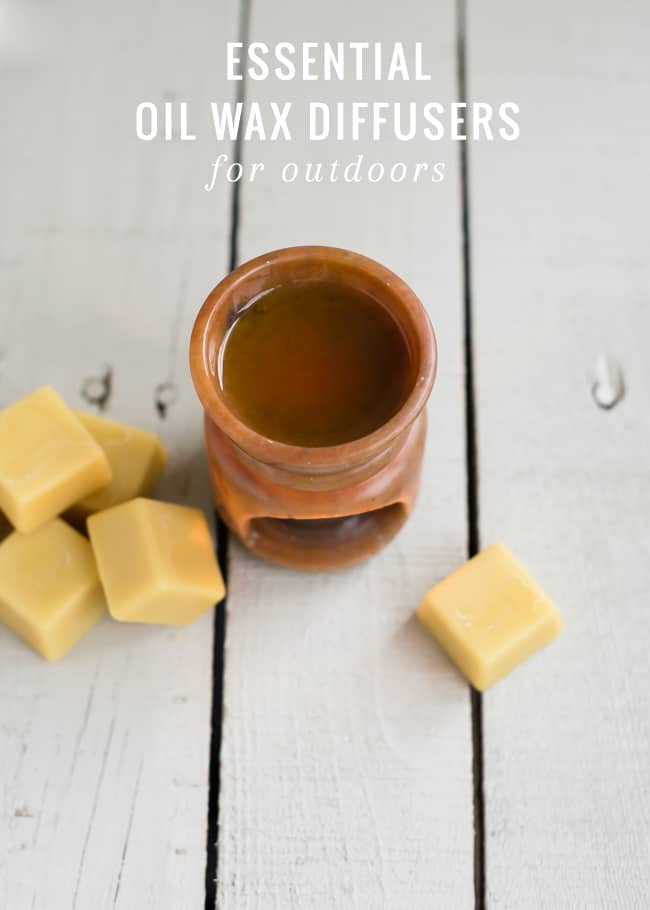 How to make wax melts
The oil blend I've used contains citronella, geranium, rosemary and eucalyptus, all of which are frequently found in natural insect repellent recipes.
Here's how you make the wax melts: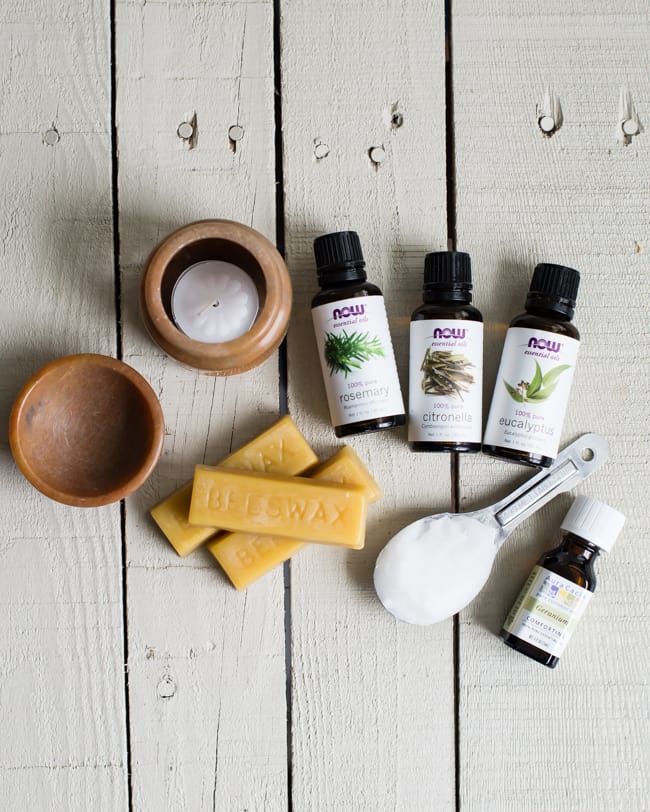 You need 1 tablespoon of coconut oil plus 3 ounces (6 tablespoons) beeswax. If you use beeswax pellets, it melts very easily. However, bars of beeswax need to be chopped for easier melting.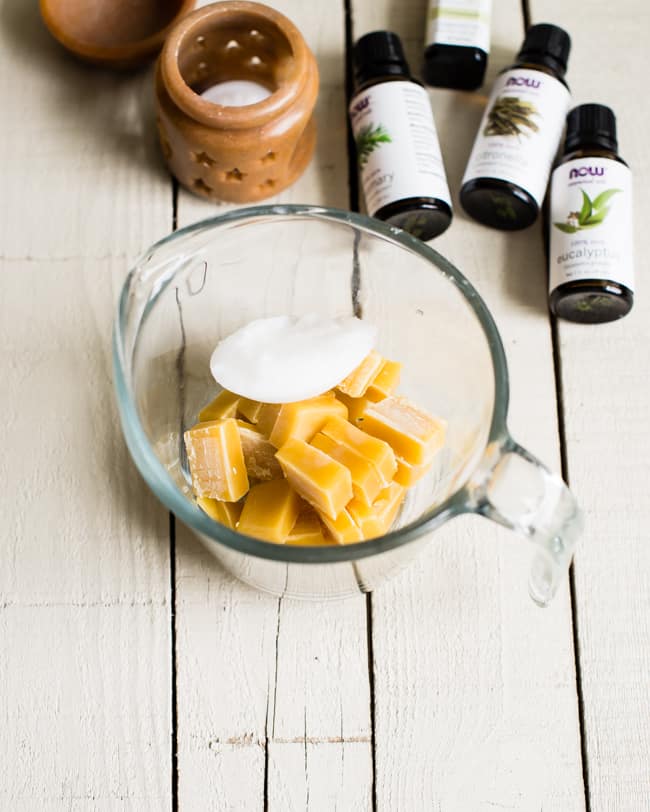 Place the ingredients in a glass measuring cup and set in a pan of simmering water, stirring occasionally until melted. This can take up to 10-15 minutes depending on the temperature and beeswax.
Alternatively, you can melt it in the microwave. Whatever you do, be super careful because it gets extremely hot! Stir well so the coconut oil is combined well with the wax.
Let it cool ever so slightly and add the essential oils. Immediately pour into a mold.
Depending on the size of the wells in the mold, you should get between 6-8 small cubes. I put the mold into the freezer so the wax will set quickly.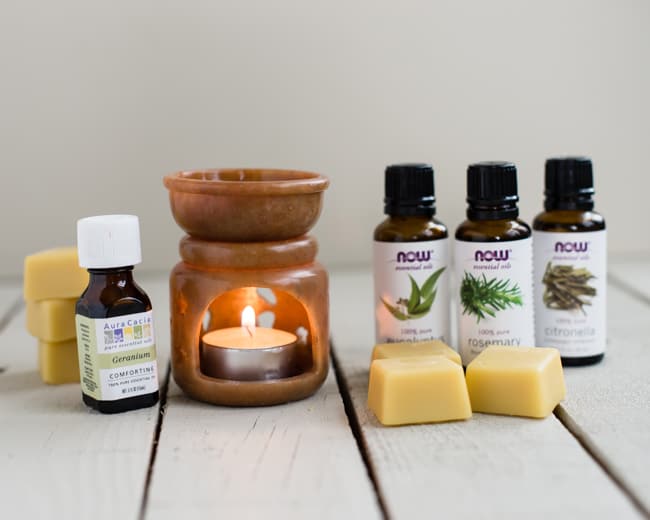 To use, place one cube into the top of a candle diffuser and light the candle. It will take about 10-15 minutes for the wax to melt and start diffusing the essential oils. If the scent isn't strong enough, add a few more drops of each of the oils.
Be very careful when handling the diffuser because it gets very hot. Allow it to stand until completely cool.
If you need to remove the wax, place the cooled diffuser bowl into the fridge or freezer for a few minutes and then simply pop it out. Store the cubes in an airtight container someplace cool and dry.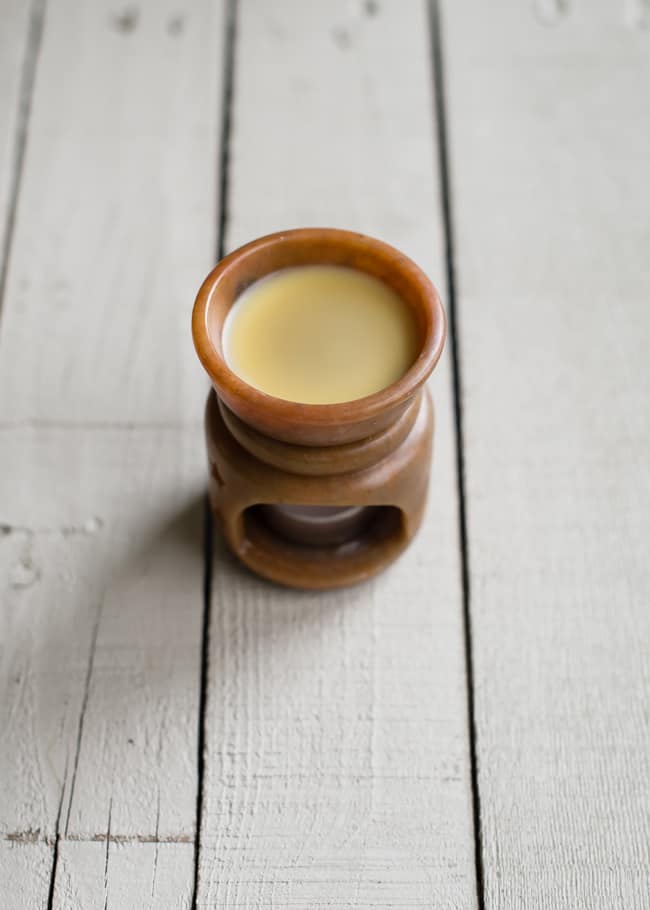 63