Flipping through a magazine recently, I spotted a gorgeous sugar scrub—for $40! Gulp. That seems a bit high for what's basically just 8 ounces of sugar and oil.
Turns out it's incredibly easy to make your own sugar scrub. And a bonus: it's cheap!
Just follow this basic homemade sugar scrub recipe and add in whatever extras sound good to you. (Or follow our battle-tested lemon and vanilla sugar scrub recipe at the end—we won't judge.)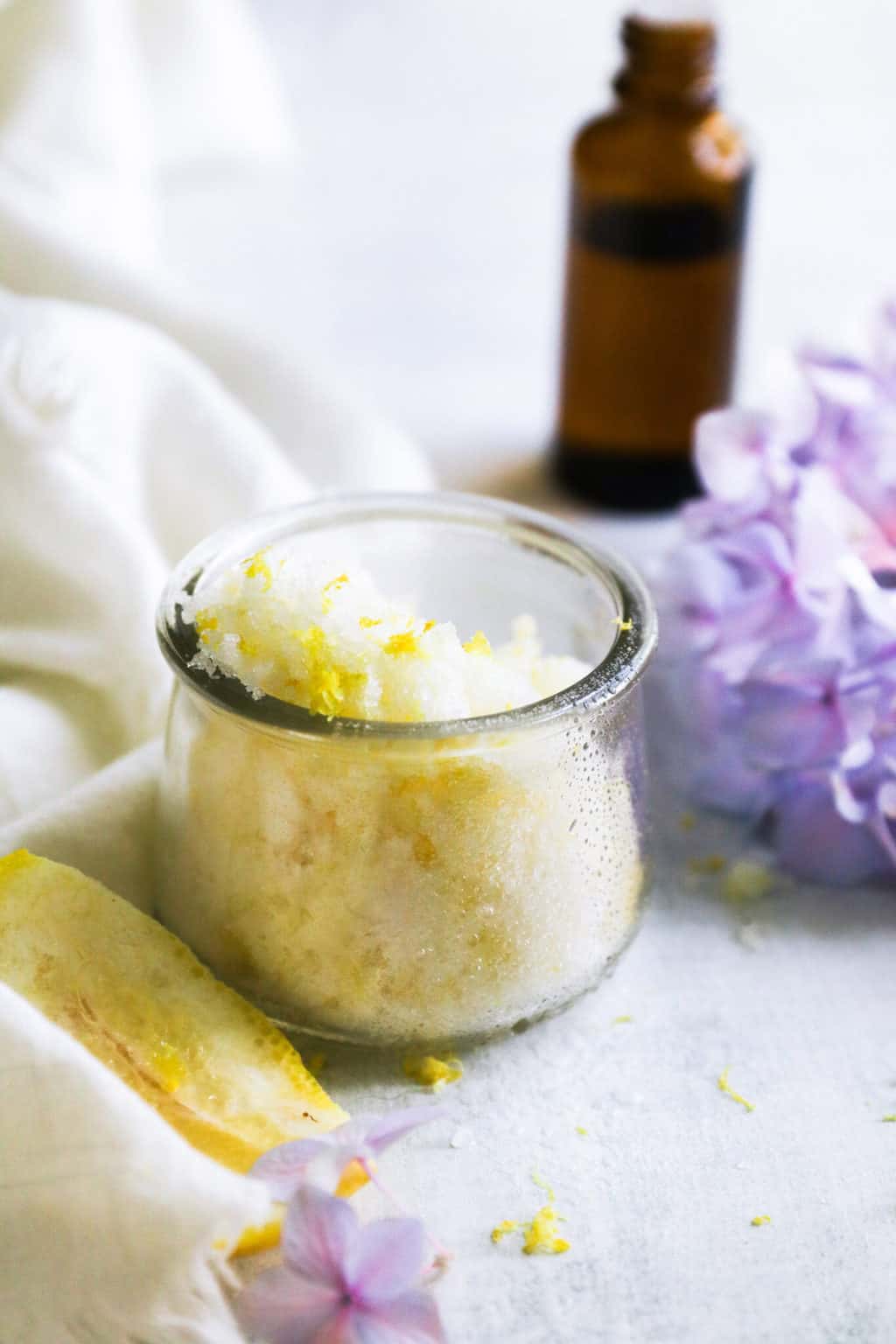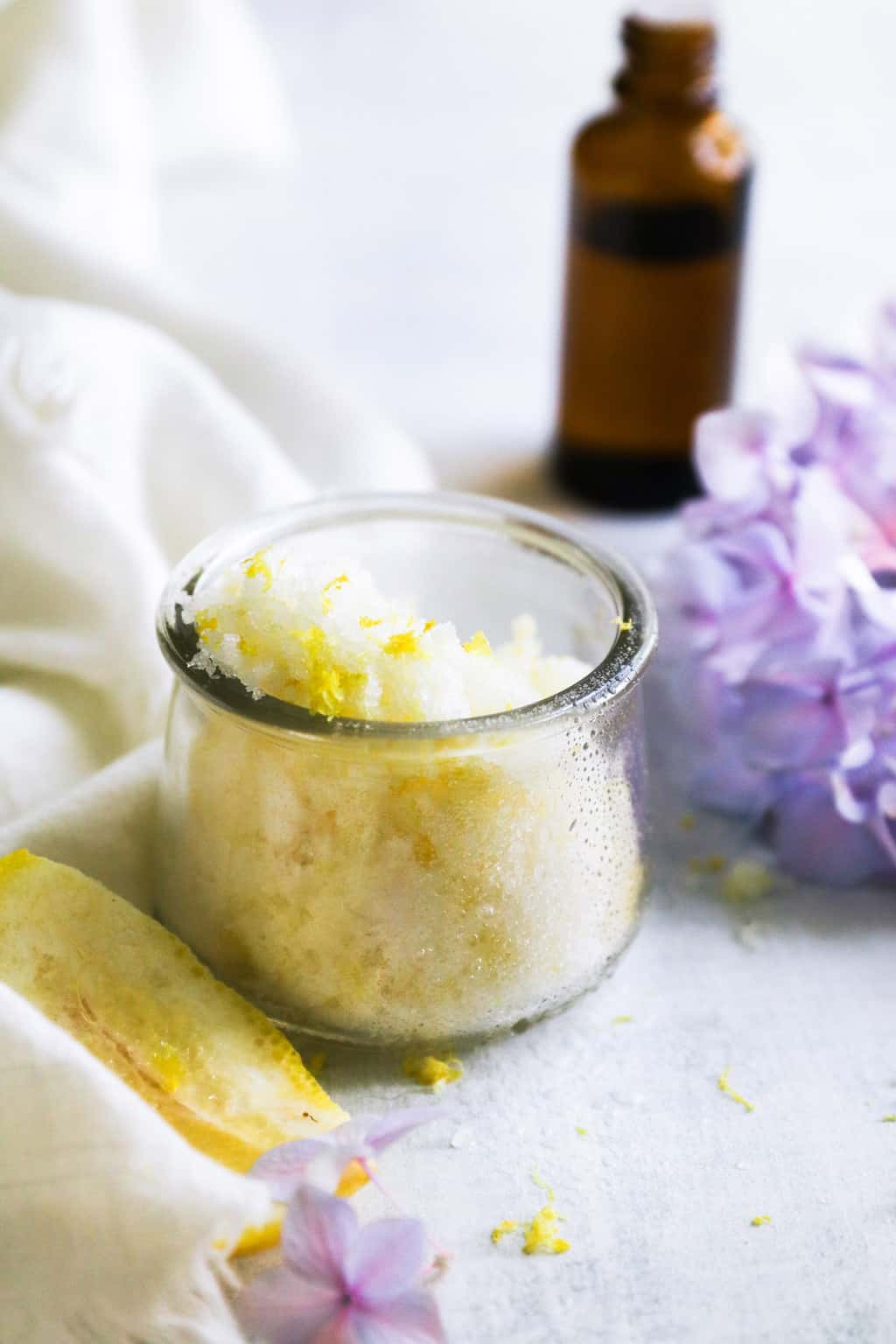 Basic Sugar Scrub Recipe
Exfoliation has never been tops in my beauty regimen until a recent facial made me a convert. Now I try to regularly add cleansing grains to my cleanser or use one of these gentle face scrubs.
But legs, elbows, and bums don't get as much attention. The fastest route to soft, smooth skin is a super simple sugar scrub. Trust me; your skin will feel amazing after using this!

Ingredients
1 cup sugar – You can use regular sugar, brown sugar, or cane sugar. Epsom or sea salt will also work, but I find they can be a bit harsh, especially if your skin is sensitive.
1/2 cup oil – Again, pretty much any kind goes: olive, sweet almond, sesame, grapeseed, or coconut. The smell of olive oil is overpowering to me, so I use either grapeseed or sweet almond.
Instructions
Put the sugar in a bowl and add oil slowly, stirring as you go. You want a consistency you can scoop with your hand, so don't let the texture get too runny. Store in a container with a tight fitting lid. You can easily double this recipe if you want to keep it on hand for a while.
Sugar Scrub Extras
Now the fun part is mixing and matching the extras in your homemade sugar scrub recipe. Extras fall into several different categories: additional exfoliants, scents, and beauty boosters. You can add as many extras as you like, but I recommend going light at first to make sure your skin doesn't become irritated.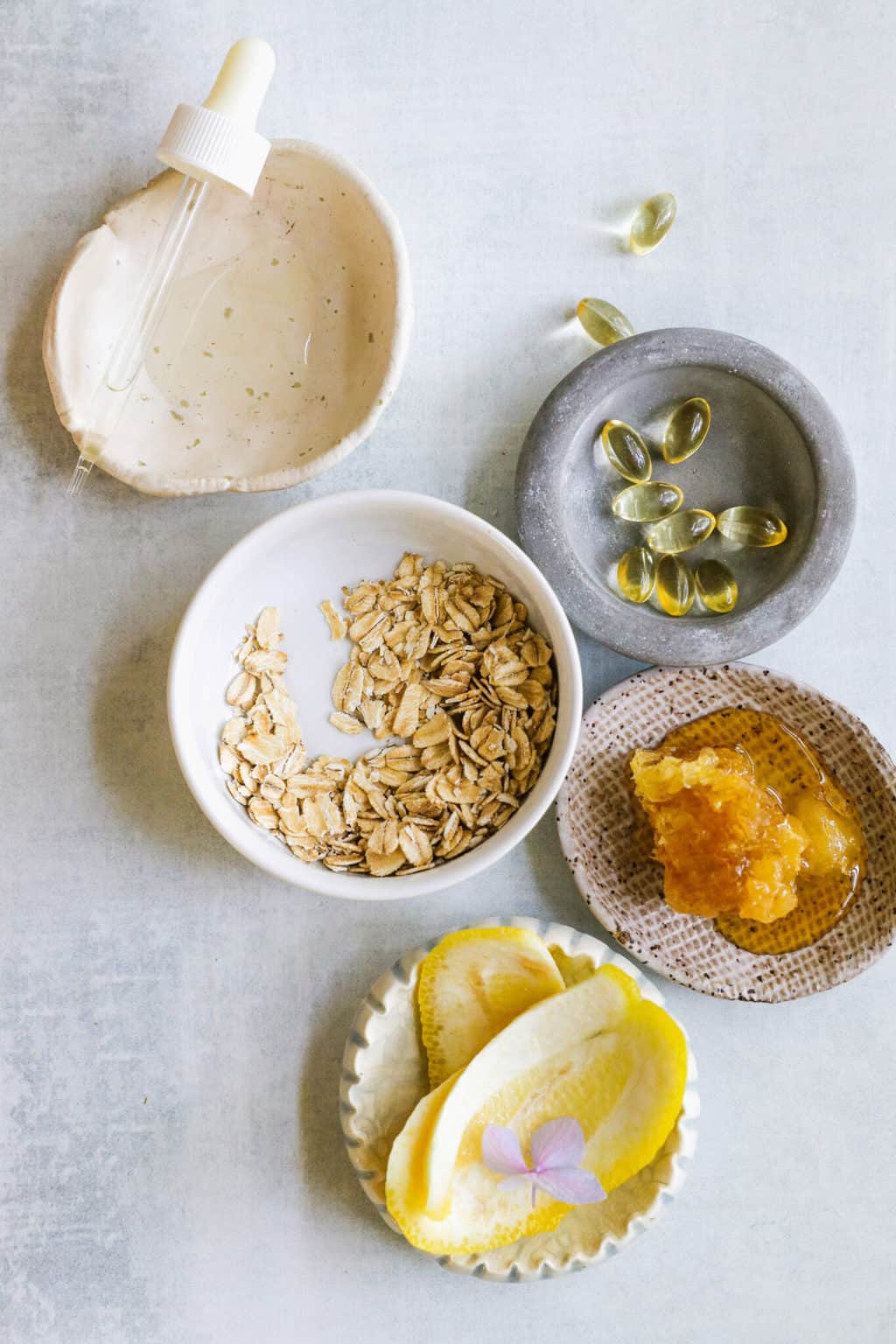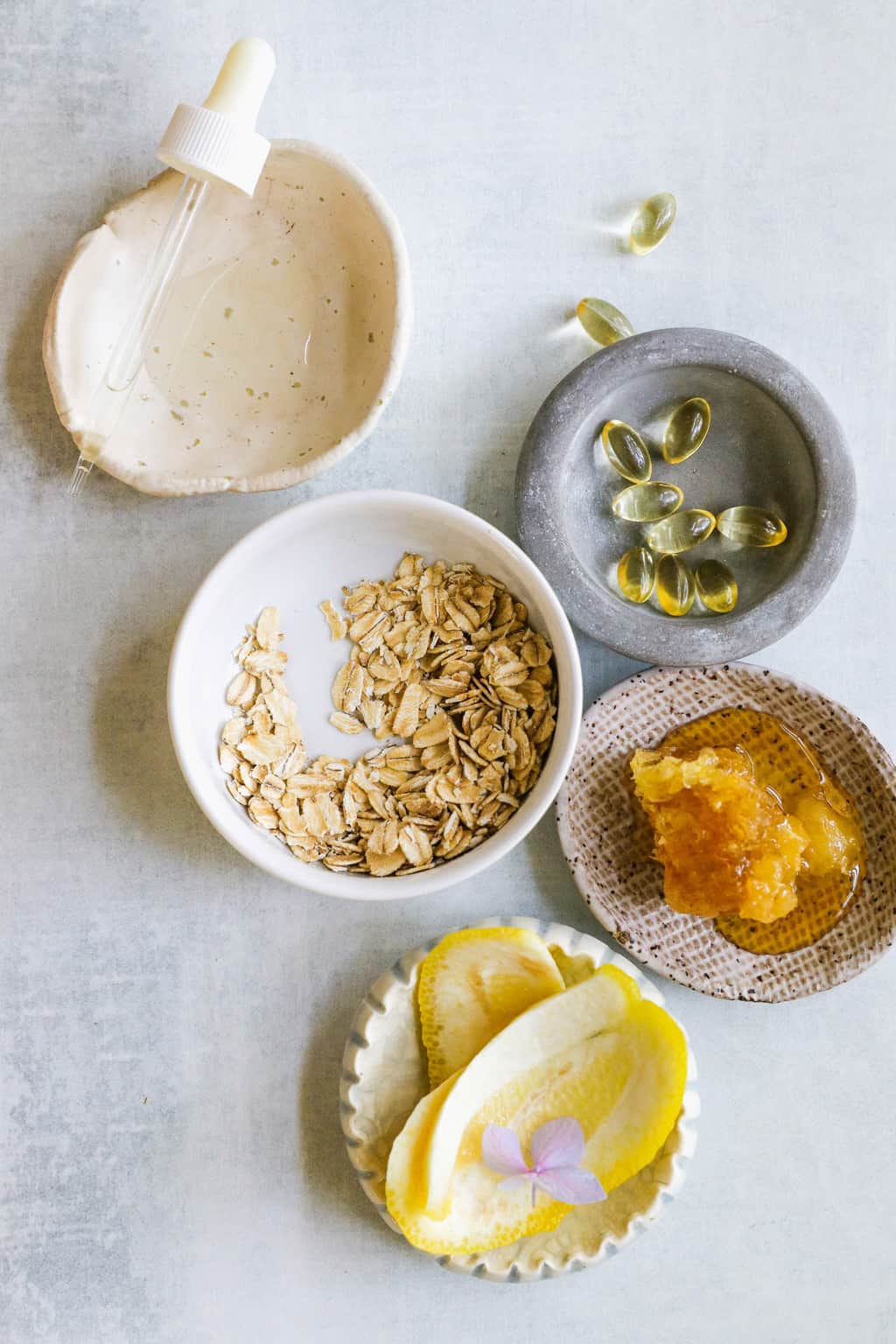 Exfoliants
-Ground oats
-Finely ground coffee
-Powdered goat or coconut milk
-Baking soda
–Bentonite clay
Scents
-Essential oils
-Citrus peels
-Dried, ground flowers
–Rose water
-Floral hydrosols
Beauty Boosters
–Raw honey
-Citrus peels
–Aloe vera
–Vitamin E
–Avocado oil
-Yogurt
For the sugar scrub recipe below, I used lemon zest, which adds a fresh scent along with a dose of vitamin C and alpha-hydroxy acids [source] that help lighten skin imperfections and boost collagen production [source]. And vanilla because, well, it just smells good! You could also add 10 or so drops of vanilla essential oil if that's easier.
6 More Sugar Scrub Ideas
Coconut Ginger: Use coconut oil for the base and add grated ginger.
Orange Ginger: Add orange zest and grated ginger for an energy boost.
Cucumber & Melon: Puree cucumber and melon together and add for extra antioxidants and hydration.
Brown Sugar & Warm Honey: Replace the oil with 1/4 cup of warm honey. Add 1–2 tablespoons of oil to get the right consistency.
Lavender & Chamomile: Add a few drops of lavender and chamomile essential oils for a soothing scrub before bedtime.
Peppermint & Eucalyptus: Add a few drops of both essential oils for a great stress reliever.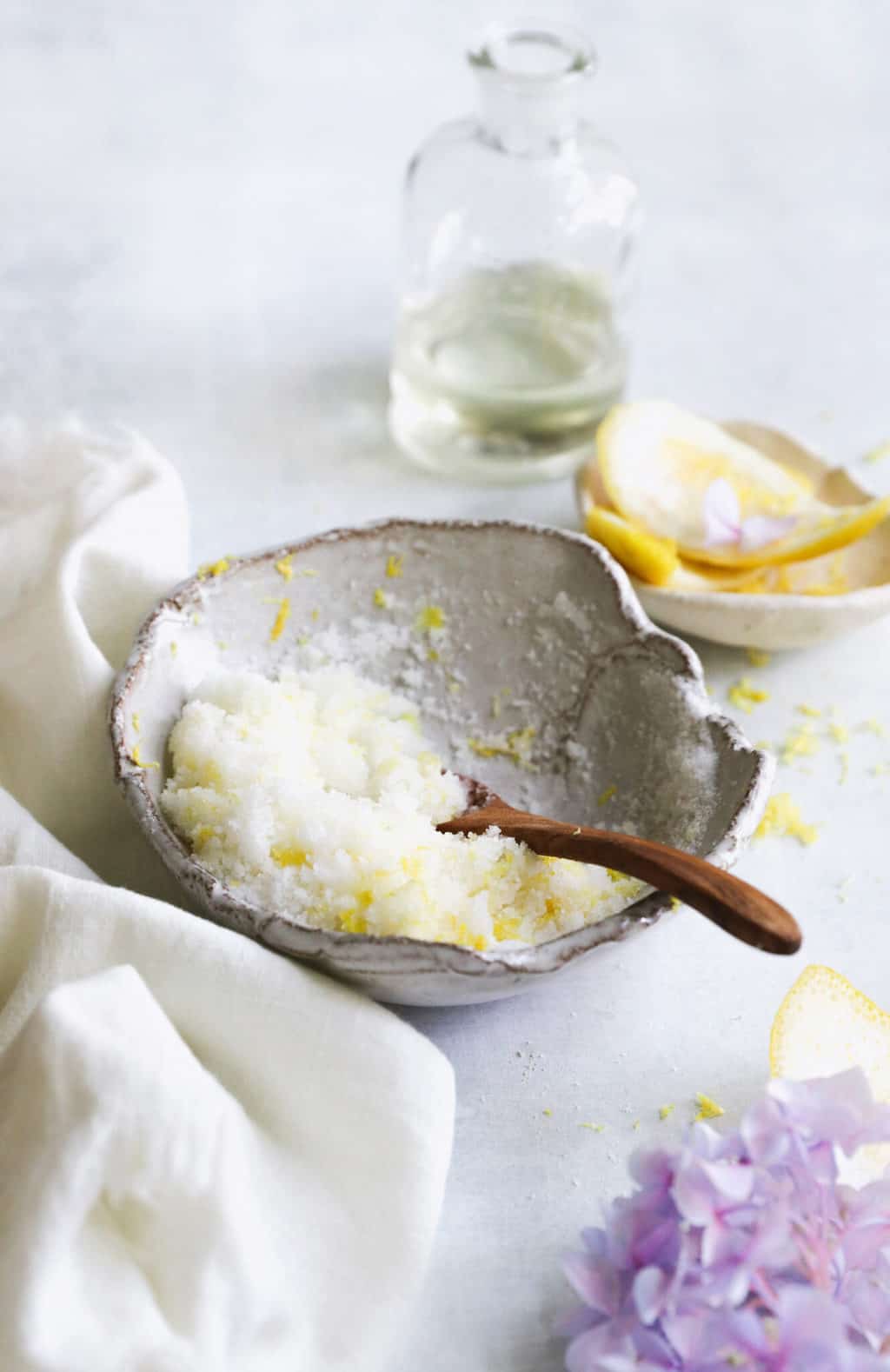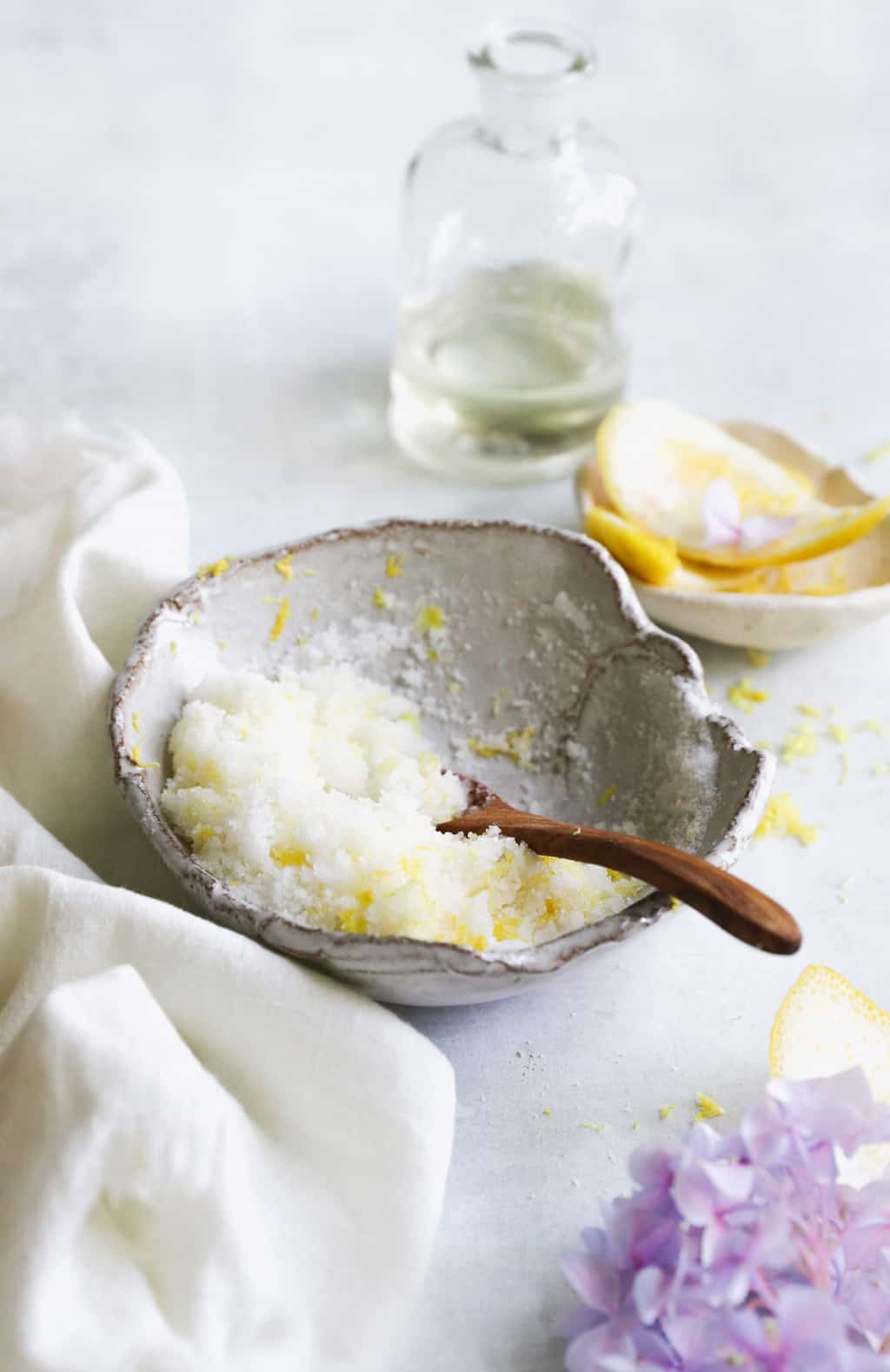 Homemade Sugar Scrub FAQs
Do I need to refrigerate leftover scrub
?
Yes, any scrub that contains food-based ingredients, like lemon zest or milk powder, should be refrigerated.
Can I use sugar scrub on my face
?
It depends on the ingredients. Since facial skin is incredibly delicate and can tear easily, you should only use fine sugar, like white or castor sugar, and keep other coarse ingredients to a minimum. Here's a sugar recipe to try on your face.
If I want to give these as a gift
,
do I need a preservative
?
Yes, a good preservative is essential if you want your sugar scrub recipe to last more than a few days. That being said, any scrub that contains food-based ingredients should be used within 2–3 days, even if it contains a preservative.
Where can I get those jars
?
They're little Weck jars, which you can buy here.
Will lemon make your skin burn or sting
?
It's highly acidic, so a little goes a long way. If you have sensitive skin, then cut back to 1 teaspoon lemon zest and adjust accordingly. Also, since lemon makes the skin photosensitive [source], don't go out in the sun after using—and always wear sunscreen when you do.
This article was medically reviewed by Dr. Gina Jansheski, a licensed, board-certified physician who has been practicing for more than 20 years. Learn more about Hello Glow's medical reviewers here. As always, this is not personal medical advice and we recommend that you talk with your doctor.
148