Lips are important this time of year. Dry air and cold temps take a toll, and but you've got two weeks to make sure your lips are kissably soft! Here's a quick 5-step action plan to take control of dryness, cracks and redness.
1. Exfoliate
It is super simple – and tasty – to do a lip exfoliation. You can go crazy with fun flavors like peppermint or vanilla, but a simple combo of oil and sugar, plus a dash of honey, will do the trick. This honey sugar lip scrub is a classic.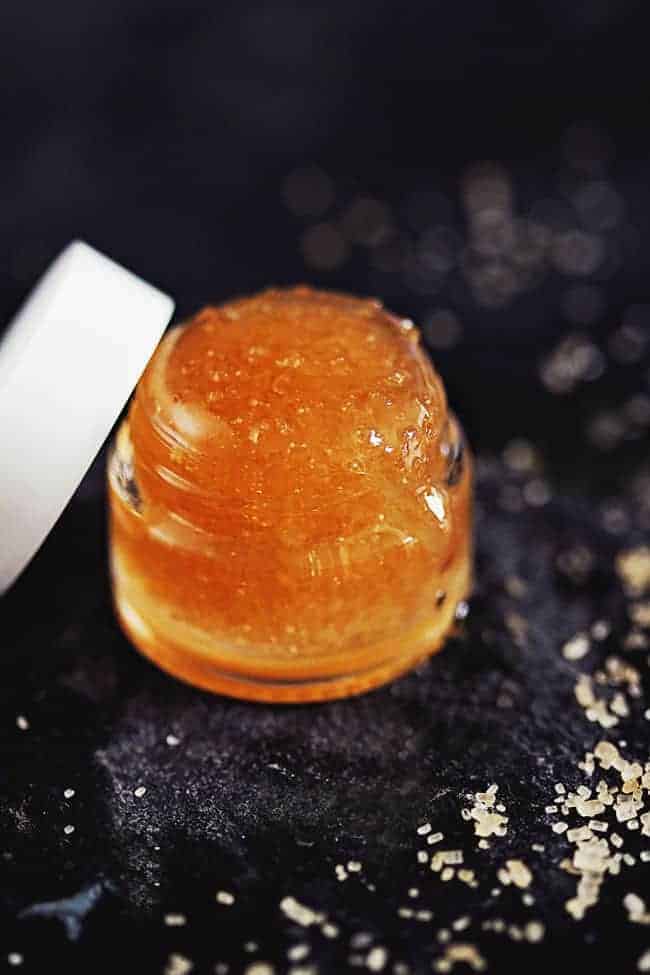 Here's a recipe if you need it, but basically you want equal parts liquid and sugar. Then use your fingertip to apply the mixture to your lips and gently scrub. Rinse with warm water when you're done.
2 teaspoons sugar (you can use pretty much any sugar: raw sugar, brown sugar, regular sugar)
1 teaspoon honey
1 teaspoon almond oil
2. Repair Overnight
Follow up the exfoliation with a simple overnight lip repair mask. You can try a collagen-infused mask or make your own. Honey helps your skin retain moisture and vitamin E treats the dry patches. Wear the mixture on your lips overnight and then wipe off any excess in the morning.
1 teaspoon vitamin E oil (about 3 vitamin E capsules)
1 teaspoon honey
3. Make Your Own Lip Balm
You can DIY lip balm. Seriously, it's easy, go do it! I like lip balms without too much beeswax. This recipe is soft enough for really dry lips and has a ton of other uses. I highly recommend using honey in your lip balm or you can  add a hint of color with raspberry or cranberry.
4. Opt for Natural if You Buy
If you're not ready to DIY, then at least toss the balms with menthol or camphor. You definitely don't want to be licking your lips and ingesting that all day. Try one of these natural lip balm options.
And don't forget about your lipstick! Some 'long lasting' lipsticks will turn your lips dryer than the Sahara Desert. They suck the moisture out of your lips, and when the color settles into the grooves of your lips it's not a pretty sight.
Try a lip gloss from BeautyCounter – or even better, this Valentine's Day lipgloss and nail polish duo! For lipstick diehards, Burt's Bees is one that uses natural moisturizing ingredients like moringa oil and raspberry seed oil.
5. Hydrate + Humidify
I was the person who hated hearing everyone preach about drinking more water until I actually started doing it. And for me, the biggest benefit of drinking at least 32 ounces a day (with the goal of 64 ounces) was that I could finally break my lip balm addiction. Because I wasn't constantly licking my dry lips!
Drinking water is even harder in winter, I know. So I'm relying more on herbal tea – and when you're ready to venture beyond peppermint, here's a great breakdown of new types to try.
The other skin game changer for me was running a humidifier at night. When we only had one humidifier my kids would literally fight about who got to use it at night. Now I'm a sucker for one that pretties up my bedside table, like this one.
P.S. Now that you have the perfect pout, try cinnamon to give you plumper lips the natural way!
13