Washing your face with clay and charcoal seems weird, right? But together, they create a homemade facial cleanser that gently exfoliates the surface of your skin, removes makeup and dead skin cells, and also detoxifies your pores.
We'll show you how to make your own suds-free cleanser at home with just 4 ingredients.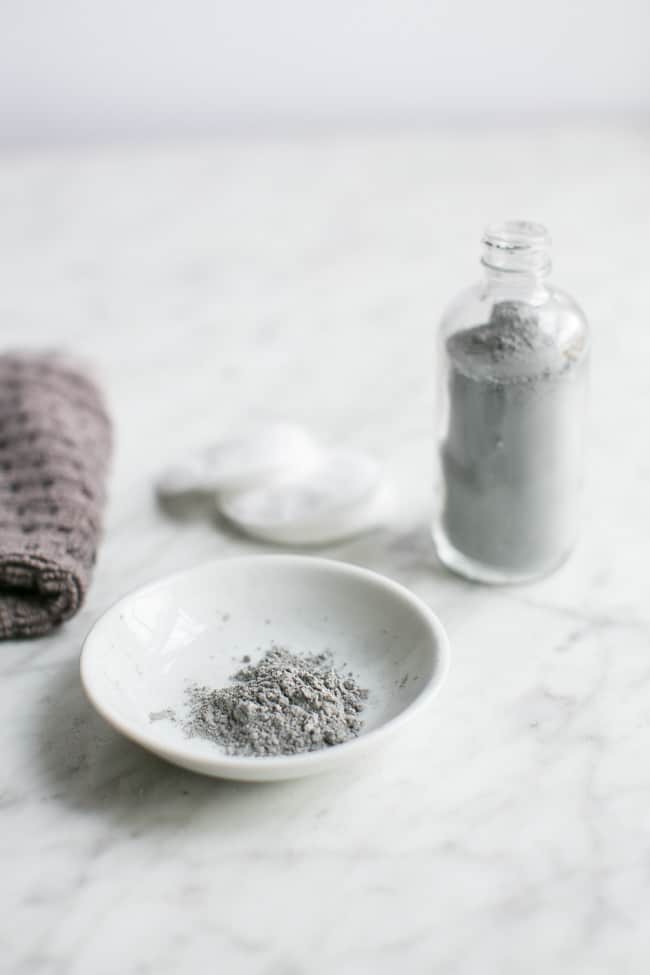 How to Make a Homemade Facial Cleanser
We've talked about face scrubs before and how to manually exfoliate. But cleansing grains are different in that they contain no water or other fresh ingredients that would cause the mixture to spoil. So the cleanser will stay good for 6 months or more—as long as you're careful to avoid introducing water.
The ingredients in this cleanser are gentle enough for all skin types, but it works especially well for oily skin. Your skin gets smooth from gentle buffing on the surface, while the clay and charcoal suck up excess oil, dirt, and impurities from your pores. Avoid aggressive exfoliation as this may worsen or trigger acne breakouts.
Oats
Great for fighting acne, oats can do so much for your skin. They are soothing and work as a great homemade facial cleanser—thanks to saponins, which remove dirt and oil.
Oats have great soothing and anti-inflammatory properties [source] that make them a worthwhile choice for treating dry skin and conditions like eczema and psoriasis.
Kaolin Clay
Most often recommended for balancing oily skin, white kaolin clay (China clay) is used in scrubs, face masks, and deodorants because of its drying effects. It may function as a natural exfoliator, reduce skin redness and inflammation [source], and help tone your skin.

Bentonite Clay
Bentonite clay is antibacterial, reduces inflammation, and absorbs and removes toxins by binding with them to remove them from your body [source]. It is rich in minerals and nutrients such as calcium, magnesium, silica, copper, iron, and potassium, which collectively help maintain and strengthen the integrity of the protective layer of the skin.
Because bentonite clay is so good at drawing out impurities, never let it touch anything metal, otherwise, it can absorb heavy metals and become less effective.
Activated Charcoal
Charcoal is not just for whitening your teeth. It's a great addition to your beauty routine, acting as a vacuum to absorb excess oil and clear dirt and pollution out of clogged pores. When used as a homemade facial cleanser, charcoal needs to sit on the skin for at least a minute.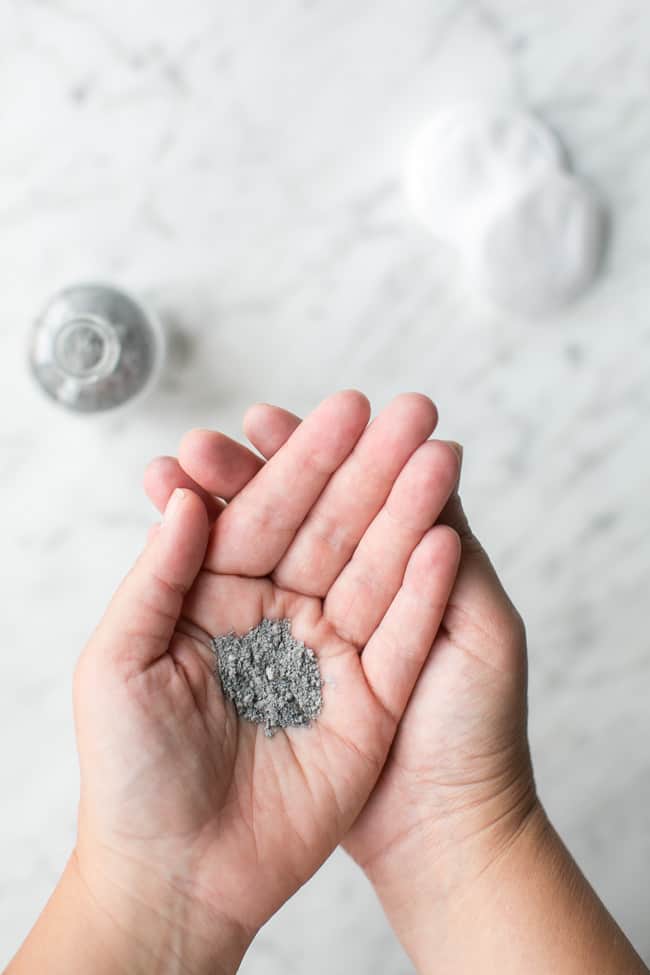 I keep my cleansing grains by the sink and just pour a small amount into the palm of my hand. Then add a bit of water to moisten and apply to the face, massaging it into skin. If you want to up the cleansing power—or use the mixture as a face mask—you can experiment with other skin-loving liquids, such as:
Coconut milk – helps soothe dry skin
Aloe vera gel – nourishes skin and calms irritation
Lemon juice – acts a natural exfoliator
Rose water – helps maintain pH balance
Green tea – contains vitamins, caffeine, and antioxidants
Jojoba oil – replenishes moisture
DIY Detox Cleansing Grains + Mask
To make your own homemade facial cleanser, all you really need are oats, clay, and activated charcoal. If you're feeling adventurous, feel free to add a few essential oils to target any problem areas and nourish skin.
Ingredients
Instructions
Combine the clay and ground oatmeal in a glass mixing bowl. Be sure to measure the clay with non-metal measuring cups, since clay can absorb metal and become less effective.

Add the activated charcoal and essential oils. Stir with a wooden or plastic spoon until well combined.

Transfer to a container with a lid.

To use, dispense a small amount (about a teaspoon) of grains into your hand. Add a few drops of water to get a wet paste. Gently massage into skin, making small circles with your fingers. Rinse with warm water and follow with toner and moisturizer.
Detox Cleanser FAQ
What else can I use instead of kaolin clay? Can I just use bentonite clay instead?
Sure, you can just use bentonite clay if you'd like. Or you can mix and match other types of clay, such as Rhassoul clay (Moroccan Red clay), French clay, or Fullers Earth.
What type of oats works best for this?
I prefer organic rolled oats because they're softer and have fewer jagged edges than steel cut oats.
Can I add water to my dry grains ahead of time, so I don't have to mix it every day?
I don't recommend it because as soon as you introduce water, you introduce bacteria, drastically cutting the shelf life of your cleanser. If you add water ahead of time, you should store your cleanser in the refrigerator and aim to use it within 2–3 days.
Are cleansing grains really gentle enough to use as an exfoliator?
Yes, as long as you make sure to grind the oats thoroughly beforehand. You want to make sure there aren't any large or jagged chunks that can cause irritation or micro-tears. If you're unsure, use a fine-mesh strainer to sift out any harsh pieces.
How often can I use my homemade facial cleanser?
It's safe to use cleansing grains like you would any other exfoliator, roughly 2–3 times a week, or as needed to tackle seasonal dryness.
What are some other gentle ingredients I can add to my cleansing grains?
The list is endless! Make sure to grind whole ingredients into a fine powder using a coffee grinder. And don't be afraid to experiment with a combination of ingredients until you find a recipe that works for you.
Try:
This post was medically reviewed by Dr. Rina Mary Allawh, M.D., a dermatologist who practices adult and pediatric medical dermatology, skin cancer treatment, and cosmetic dermatology. Learn more about Hello Glow's medical reviewers here. As always, this is not personal medical advice, and we recommend that you talk with your doctor.
Photos by Susan Hudson
175