Sugar scrubs are one of my favorite homemade beauty gifts, along with scented bath salts and homemade candles. One great thing about this last-minute gift idea is that you probably already have everything on hand in your kitchen right now. The other thing – probably the best thing – is that they smell divine, just like fresh baked sugar cookies.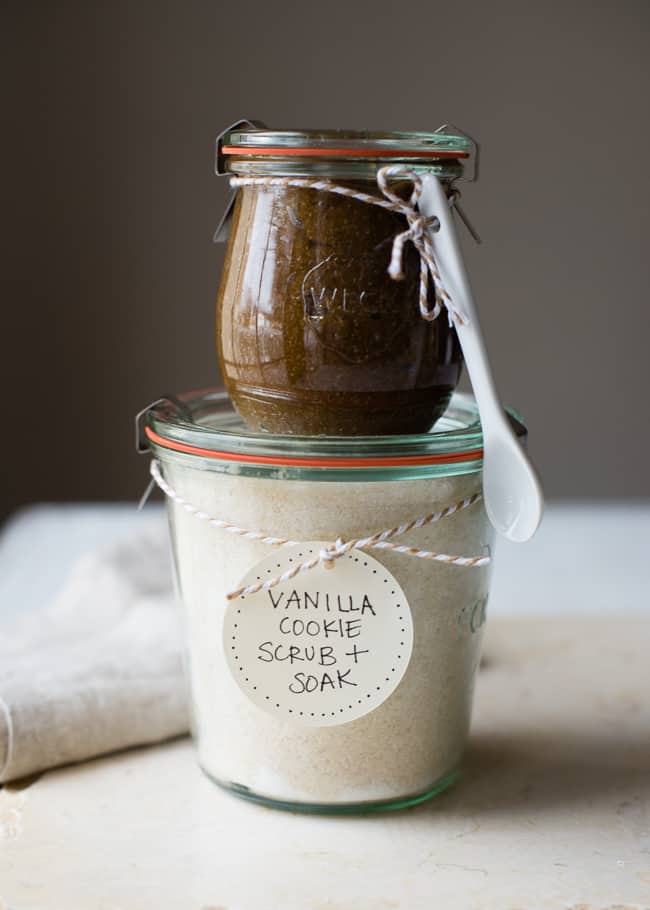 The face and body scrub is made with ground oats, brown sugar, almond oil and vanilla extract. The oats and sugar gently exfoliate dry skin and almond oil locks in moisture, leaving skin feeling soft, smooth and refreshed. The bath salts are a combination of Epsom and sea salts combined with vanilla – perfect for soaking away sore muscles from all that holiday shopping (so important, amiright?) They smell good enough to eat!
Here's what you need to make this perfect last-minute gift!
Vanilla Sugar Cookie Body Scrub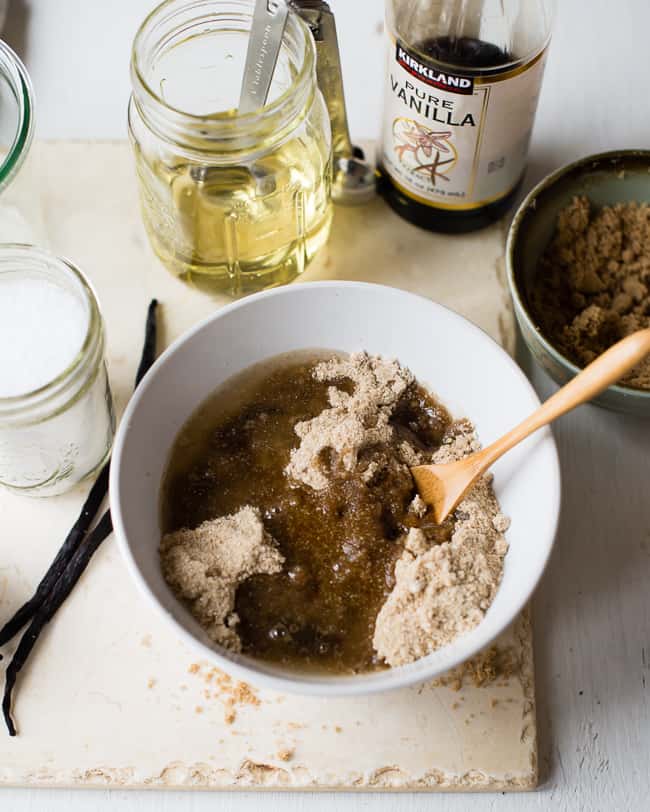 Brown sugar is ideal for face and body scrubs because it's gentler than other types of sugar. Brown sugar's fine granulated particles exfoliate your skin and clear away dry and dead skin cells without creating micro-tears in sensitive skin. This helps create smoother skin, more even skin without aggravating flareups or leaving redness and irritation in its wake.
That also means you end with a bright, youthful glow. Brown sugar also has anti-bacterial properties and it's loaded with glycolic acid, which keeps your skin radiant and decreases the appearance of fine lines.
But it's not just reserved for sensitive skin. Go ahead and use on the arms, legs, torso and chest–essentially anywhere you have dry, itchy skin.
And thanks to ground oats and almond oil, this scrub even soothes sensitive areas and locks in moisture.
Ingredients
2/3 cup brown sugar
1/3 cup ground oats (grind oats in blender)
6 tablespoons almond oil
1 teaspoon pure vanilla extract
Instructions
Combine all ingredients in a bowl and stir until combined. Transfer to a jar with a tight-fitting lid. Store in a cool, dark place for about 2-3 weeks. To use, place some of the scrub into hands and gently rub over skin. If using on face, use extra caution. Add a little warm water, if needed. Rinse with warm water and pat dry. Best used before bathing or at bedtime.
Vanilla Bath Salts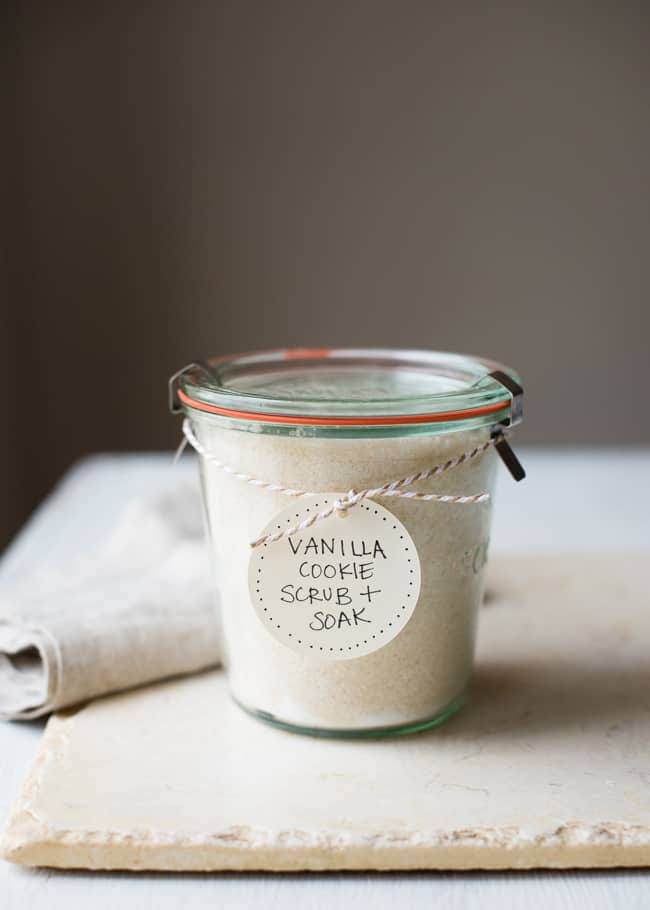 Where as a brown sugar scrub tames flakes, an Epsom salt bath soak nourishes dry skin, calms inflammation and relaxes tense, tired muscles. I love pouring some into a hot bath after a long, tired day at work–and I know my loved ones will, too.
In addition to Epsom salt, this soak uses coarse sea salt to replenish vitamins and minerals in tired skin and to help detox the body. Lastly, vanilla extract gives it a relaxing, holiday-y scent that makes this soak seem more like an event as opposed to another item on your to-do list.
Ingredients
1 cup coarse sea salt
1 cup Epsom salt
1 tablespoon pure vanilla extract
Instructions
Combine in a bowl and stir well. Transfer to a jar with tight-fitting lid. Keep in cool, dark place. Will last for several months. Add 1/2 cup of the bath salts to a warm bath.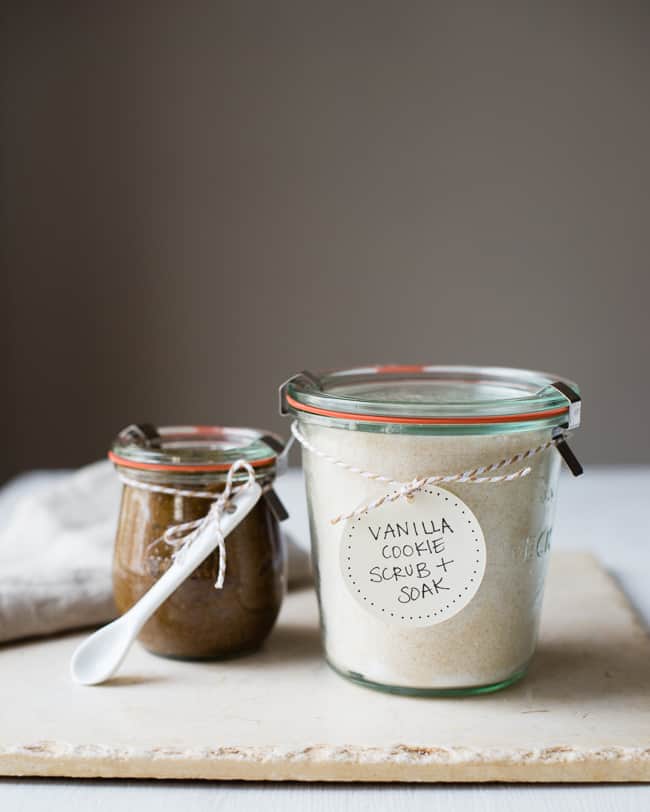 86