Whenever one season ends and a new one begins, it's a wonderful opportunity to take advantage of the seasonal produce available, and even incorporate them into your beauty routines. I've whipped up three fall themed DIY body scrubs that will slough off the dry skin of summer and have you ready to welcome autumn with renewed vigor. And you'll smell just like fall!
Clove and Sugar Body Scrub
With the autumn months come the onslaught of flu season, and clove is just the addition you'll want for your body scrub. Clove is known for it's anti-infectious, antibacterial and anti-viral properties.
Supplies needed
Add above ingredients to a bowl and mix well. Store in a covered jar to use all over your body for extra exfoliation, concentrating on rough patches like knees and elbows. Rinse and towel dry.
Citrus Salt Body Scrub
One of my favorite things during fall is the amazing citrus fruit selection, from oranges to grapefruits to tangerine varieties. This salt scrub is both relaxing and immune boosting, and the fragrance from the citrus zest will keep you energized.
Supplies needed
Combine the sea salt and oil, mix well in a bowl until the salt is saturated with oil. Then add the teaspoon of zest and mix. Store in a covered jar and use as needed all over your body. Rinse and towel dry.
Pumpkin Cinnamon Body Scrub
Pumpkin is packed with alpha hydroxy acids that help with cell turnover and rapid exfoliation. This scrub is perfect to brighten skin and get rid of those rough areas on our body.
Supplies needed
1/2 cup pumpkin puree
1/2 cup brown sugar
1/4 teaspoon cinnamon powder (optional)
Combine all of the ingredients in a bowl and mix well. This scrub needs to be used at the time of mixing, so don't store to use later. This scrub is best applied to dry skin. I prefer the following order for application: 10-20 warm water bath soak, towel dry, scrub, and then shower to rinse off.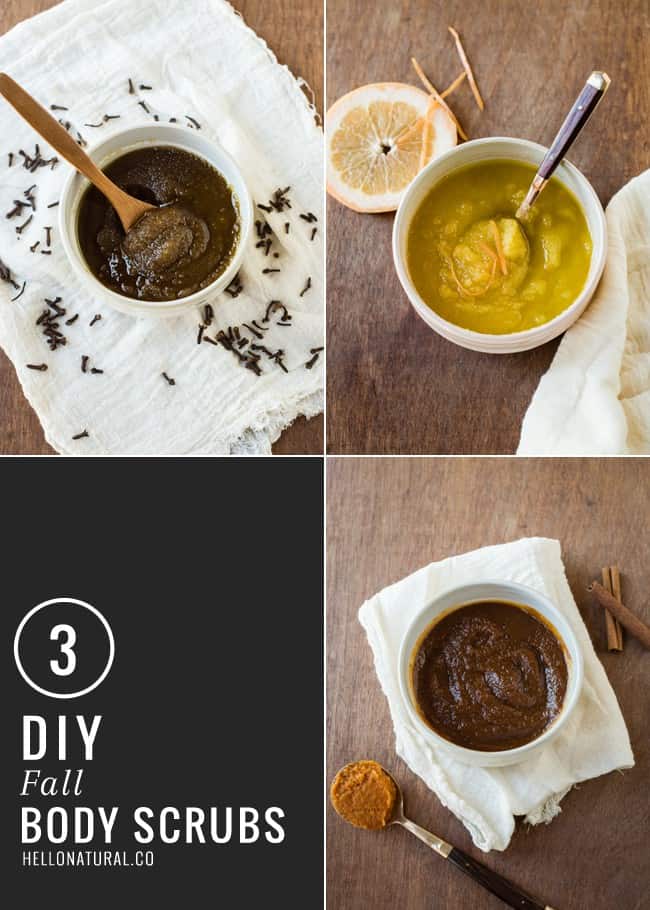 Which one is your favorite?
70