Whenever one season ends and a new one begins, it's a wonderful opportunity to take advantage of the seasonal produce available. And this is also the best time to incorporate them into your beauty routines. The fall brings farmers markets, seasonal pop ups, and fresh grocery store selections, providing a brand new list of items I can use to create beauty recipes.
I've whipped up these fall-themed DIY body scrubs that will slough off the dry skin of summer and have you ready to welcome autumn with renewed vigor. And you'll smell just like fall!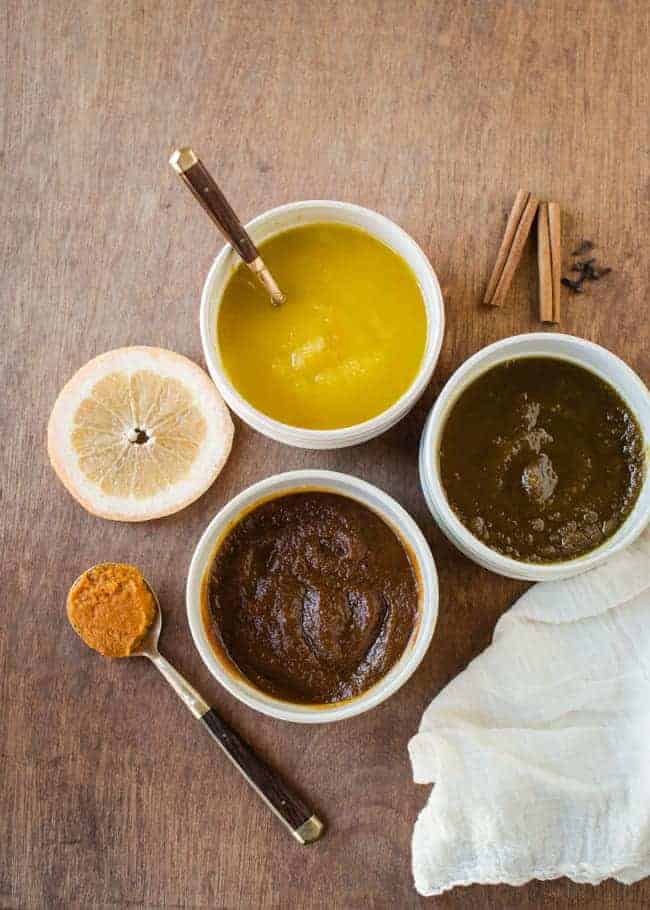 How to Make a DIY Body Scrub
Homemade scrub recipes are super simple (and cheap!) to make at home. Grab some sugar, salt, or coffee, then add a bit of carrier oil to soften and hydrate, and you're all set.
Body scrubs can be used several times a week, depending on skin sensitivity. Just store the extras in a lidded container and do your best to avoid introducing water to the mixture. It should last 2 to 3 weeks if no fresh ingredients (like mashed fruit) are used.
For an evening of pampering, I prefer the following order for application: 10–20 minutes for a warm water bath soak, then towel dry, scrub, and shower to rinse off. Follow with a hydrating body moisturizer for optimal hydration.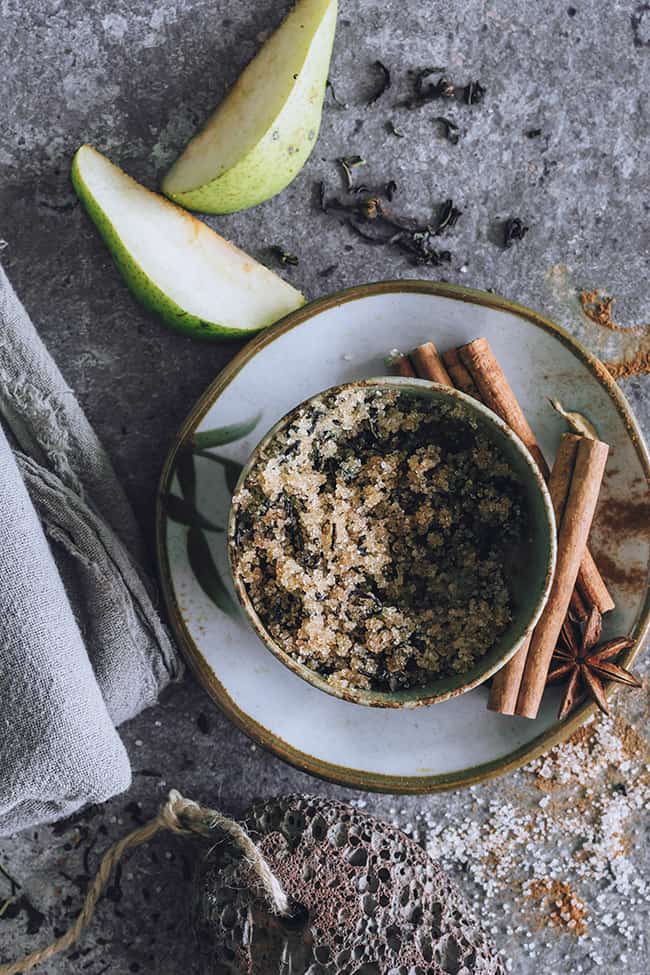 1
.
Chai Pear Sugar Scrub
Chai tea has numerous health and beauty benefits due to the high antioxidant content in black tea leaves. Chai also contains spices such as fennel, cinnamon, clove, and ginger, all of which are anti-inflammatory, antibacterial, and rich in vitamins.
¼ pear (peeled and mashed)

1 cup brown sugar (or finely granulated white sugar if you plan on using this on your face only)

½ cup

grapeseed oil

Dash of cinnamon
Cut open the tea bags and empty the contents into a bowl, adding the brown sugar, oil, and cinnamon. When you're ready to use the scrub, stir in the pear.
Since the pear is the only perishable item in this scrub, you can prepare all of the other ingredients and keep them on hand, adding in the pear when ready to use.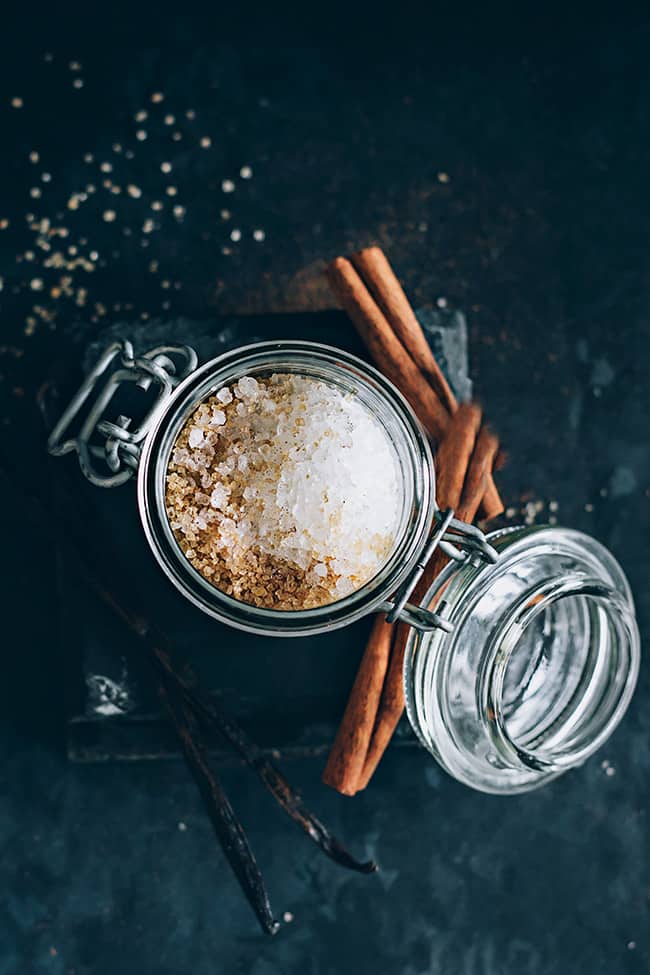 2
.
Vanilla
&
Cinnamon Sugar Body Scrub
This body scrub is perfect for all skin types and ages. The scent is pleasant and not too sweet.
1 cup sugar

¼ cup brown sugar

1 tablespoon ground cinnamon

1 teaspoon vanilla extract
Combine all of the ingredients in a small bowl and mix thoroughly. Depending on the desired consistency, you can add more oil or less sugar. Use the scrub on damp skin, concentrating on rough areas like elbows and knees.
Store the scrub in an air-tight container and use it within 2 to 3 weeks. If you plan to gift this scrub, a little ingredient list attached to the lid or dangling from some twine would make it even sweeter than it already is.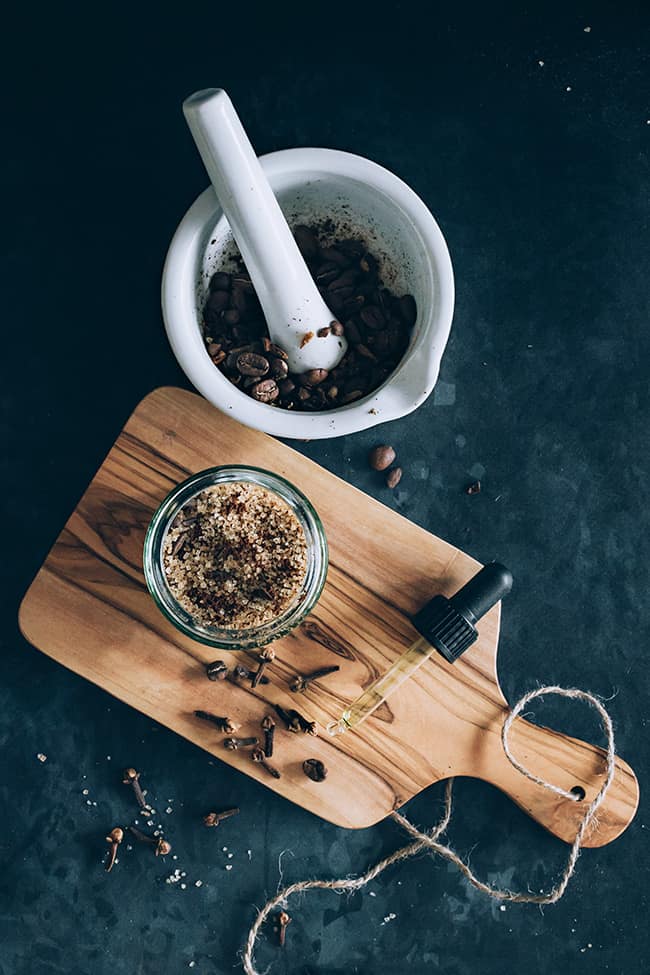 3
.
Clove
&
Coffee Body Scrub
Along with the autumn months comes the onslaught of cold and flu season, and clove is just the addition you'll want for your body scrub. Clove is known for its anti-infectious, antibacterial, and antiviral properties. Not to mention the scent is heavenly, with woodsy hints of both spice and sweetness.
1/2 cup coffee beans

1/3 cup raw sugar

1 teaspoon cloves

1/4 cup olive or

jojoba

oil
In a coffee grinder, combine the beans, sugar, and cloves, and grind until it reaches your desired coarseness. In a small bowl, add the oil slowly to the coffee bean mixture and stir to combine. Store your scrub in an air-tight container.
Use the scrub on damp skin, concentrating on rough areas like elbows and knees. Then rinse and towel dry. Follow with a body moisturizer for optimal hydration.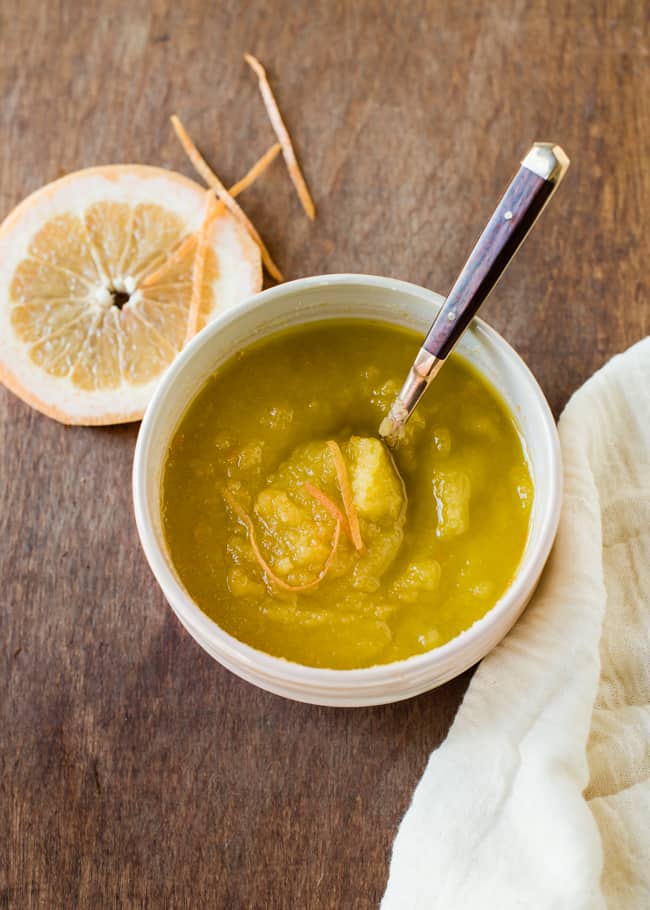 4
.
Citrus Salt Body Scrub
One of my favorite things during fall is the amazing citrus fruit selection. From oranges to grapefruits to tangerine varieties, you cannot beat the market offerings found in the early autumn months.
Because it's made using fresh autumnal produce, this next salt scrub is both relaxing and immune boosting. The natural uplifting fragrance from the citrus zest will also keep you energized.
Combine the sea salt and oil, and mix well in a bowl until the salt is saturated with oil. Then add the teaspoon of zest and mix. Store your scrub in a covered jar, and use it as needed all over your body. Rinse and towel dry when you're finished.
Follow with a body moisturizer for optimal hydration. Sea salt can be grittier than sugar, so be sure you use light pressure, and never use this scrub on the face or neck.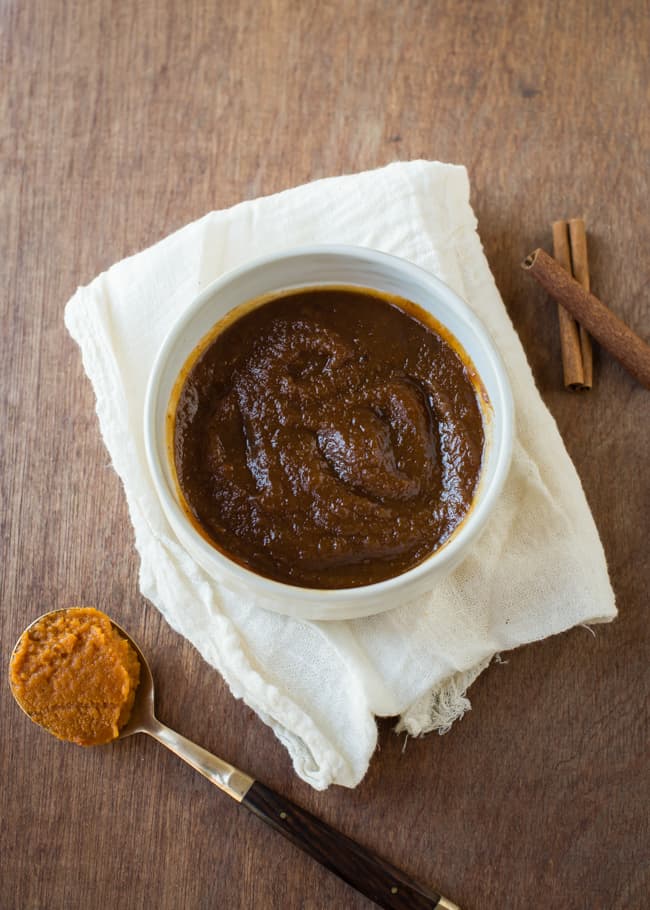 5
.
Pumpkin Cinnamon Body Scrub
Pumpkin is packed with alpha-hydroxy acids that help with cell turnover and rapid exfoliation. If you clean out or carve some pumpkins this fall or even plan to roast some seeds, save the pumpkin "meat" for this delicious-smelling scrub.
These ingredients are perfect for brightening skin while reducing those rough areas on your body. This recipe is super quick, easy to make, and great for exfoliating and moisturizing your legs at the same time.
1/2 cup pumpkin puree

1 cup brown sugar

1 teaspoon pumpkin pie spice

1/4 teaspoon cinnamon powder (optional)
Mix the sugar and pumpkin puree in a bowl until completely combined. Stir in the pumpkin pie spice and cinnamon, if using, until blended. If the scrub looks a little loose or runny, add more sugar to the mixture until it has a thick, paste-like consistency.
Apply the scrub in circular motions, and let the mixture stand for 1 minute before rinsing with warm water. This scrub is best applied to dry skin.
137