Have you been thinking of switching up your skincare routine? If you've been relying on the same products and methods for years, you and your skin will benefit by altering your routine. Even though broccoli and wild salmon are good for you, you won't be healthy if those are the only foods you eat everyday for years!
For 4 weeks, try these easy skincare fixes—including switching to more natural products and DIY treatments, as well as addressing your skin issues from the inside out—and you'll notice calmer, more glowing skin!
28-Day Glowing Skin Challenge
Day 1: Fix Your Face Washing Mistakes
Are you washing with hot water or rubbing your face dry with a towel? If so, you're doing it wrong. Find out how to fix the top 10 common face washing mistakes.
Day 2: Commit to a Gentle Cleanser
Harsh cleansers can strip away the natural oils and good bacteria in your skin that keep it balanced and hydrated. Whip up some homemade cleansing grains for gentle cleansing and exfoliation, or make your own gentle foaming cleanser. If you're brave enough to ditch soap altogether, try one of these homemade non-soap cleansers.
Day 3: Make a Makeup Switch
Swapping out paraben- and sulfate-laden cosmetics for more natural versions—or better yet, homemade ones—is easy as can be with our guide.
Day 4: Up Your SPF
Aim for a daily SPF 30 BB cream or moisturizer. Adding naturally UV ray-blocking ingredients like carrot seed oil to your beauty routine will help, too.
Day 5: Combat Wrinkles
The beta-carotene in carrots converts to retinol when applied to the skin, so use them in a wrinkle-fighting egg white mask.
Day 6: Start Using Eye Cream
It's the best way to fight puffiness and crows feet. Try one of our esthetician pick's or use a DIY coffee-infused version for an extra caffeine boost.
Day 7: Replace Coffee with Green Tea
Get your morning jolt via antioxidant-rich green tea rather than coffee, which can dehydrate you quickly. Try this green tea energy drink—it's also an energizing face mask!
Day 8: De-stress
Staying calm and centered is for more than just our mental health. No need to go completely zen, but some simple meditation, yoga or deep breathing can help keep your skin looking good and keep you sane.
Day 9: Incorporate Honey
Honey is a natural humectant (it locks in moisture), but is great for acne-prone skin because of its antibacterial properties. Make this DIY honey face wash with local, raw honey for best results. It is so great overnight to revive your lips.
Day 10: Go Makeup-Free
Try it out for one day and realize how easy it is. Work up to giving your skin a breather (and your pores some much-needed air) once a week.
Day 11: Find a Serum
A good serum can firm up the texture of your skin and also battle fine lines and wrinkles. Use a vitamin C serum in the morning and a moisturizing one like this DIY aloe vera-based version in the evening.
Day 12: Clean your makeup brushes
You know, those things you put on your face every day? Try this easy DIY cleaning method.
Day 13: Hydrate From the Inside
It'll be easier to drink more water when it tastes great (try these vitamin-rich combinations), and when you know it helps plump skin and flush out toxins? All the better. If you can't fathom drinking more water, try replacing a couple juices, sodas or other beverages with water throughout the day, or try making a coconut water smoothie.
Day 14: Use Face Oils
We know, it sounds crazy. But trust us on this one: Using a cleansing oil (like this olive-oil based one) on dry skin will keep it moisturized and help prevent aging. Find out which oil is right for your skin with our guide.
Day 15: Avoid Pollutants
Stay far away from smokers, get an air purifier for your home and travel when traffic is lighter. Your skin will thank you later.
Day 16: Detox Your Skin
Who knew champagne could aid in anything detox-related? It's true! Turns out bubbly makes a great detoxing face mask, and so does grapefruit.
Day 17: Get Glowing with Greens
Grab a green smoothie to add much-needed antioxidants (and fiber and energy) to your day.
Day 18: Rejuvenate Your Skin While You Sleep
If you have dry skin, a night cream will help your skin get its beauty sleep, too. Try an overnight mask that will have you waking up to glowing skin.
Day 19: Find the Right Toner for Your Skin
Are you oily, sensitive or dry? We've got a DIY toner for every skin type. This anti-aging pomegranate toner is refreshing and packed with antioxidants.
Day 20: Detox Your Diet
Dairy, soy, corn, sugar, salt and gluten are common triggers for skin issues. If you suspect one is to blame, try eliminating it for a bit and see if things get better. Make sure you're getting enough skin-boosting vitamins and beauty foods in your day.
Day 21: Address Your Gut
Gut health and proper digestion is one of the most common causes of skin problems, especially acne. For some people, any digestion issues show up right on their face. Regular intake of probiotics and eating plenty of leafy greens can help turn things around.
Day 22: Go Organic
Increase your intake of organic fruits and veggies wherever you can, and make sure to use a natural produce wash to rid fruits and veggies of pesticides that can leach into our systems, wreaking havoc on our skin.
Day 23: Get Enough Sleep
Lack of sleep won't just make you crabby—it can lead to weight gain, depression, anxiety, hormone imbalance and skin problems. Make a commitment to resting up!
Day 24: Use a Natural Makeup Remover
This DIY makeup remover is cheaper, more eco-friendly and easier on your skin than store-bought varieties.
Day 25: Try Turmeric
It evens skin tone, treats acne, reduces inflammation, exfoliates and has tons of antioxidants. Need we say more? Try a glowing skin turmeric mask, turmeric acne mask and glowing-skin smoothie,
Day 26: Put Probiotics on Your Face
A simple Greek yogurt-based mask done every week or two can help heal and minimize acne, balance moisture and preserve the good bacteria in your skin. Add cinnamon and flax, and you have a lovely (and sweet-smelling) exfoliating mask.
Day 27: Exfoliate…Gently
No need for harsh exfoliants or lots of scrubbing. Ingredients like alpha hydroxy acids will do the job effectively and gently. This pineapple-papaya mask exfoliates and the leftovers double as a snack.
Day 28: Turn to Natural Acne Remedies
Over-the-counter acne treatments tend to dry out skin, causing it to overcompensate with extra oil. We all know where that vicious cycle leads. Turn to gentler homemade remedies like garlic, strawberries and aspirin, tomato-sugar scrub, turmeric acne mask and see if your skin doesn't mellow itself out a bit.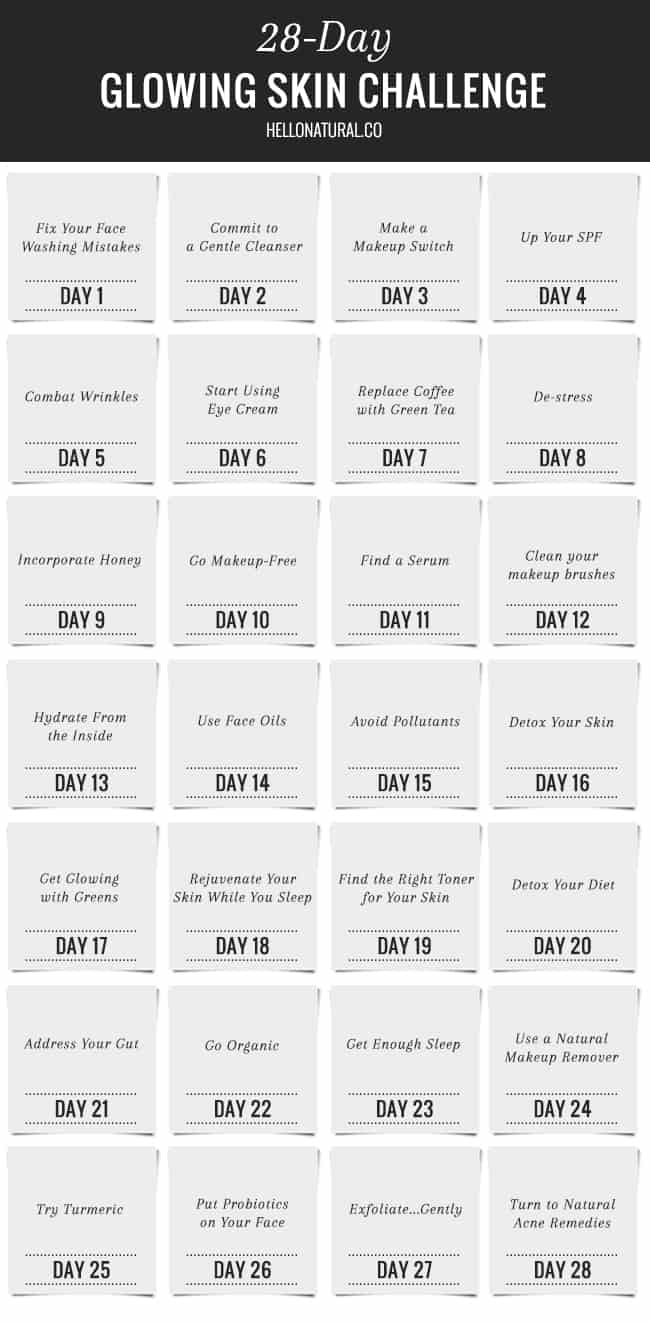 134